Val Gardena Dolomites Winter Highlights 2022-23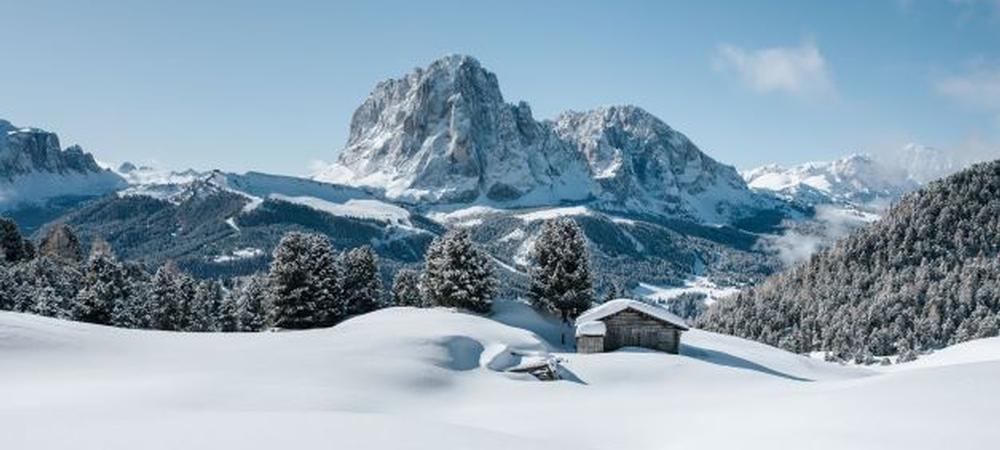 Val Gardena lies in the heart of the Italian Dolomites, where dramatic scenery provides an unforgettable winter holiday, set within a UNESCO World Heritage Site.
Val Gardena lies in the heart of the Italian Dolomites, where dramatic scenery provides an unforgettable winter holiday, set within a UNESCO World Heritage Site.
Val Gardena sits within the legendary Sellaronda – one of the best known ski circuits in the world - where ultra modern lift facilities allow access to 500km of ski slopes, 115km of cross country ski trails and 30km of winter hiking paths.
Val Gardena is one of the world's leading snowsports resorts, since hosting the World Ski Championships in 1970. Together the three villages of Ortisei (1,236m), Saint Cristina (1,428m) and Selva Val Gardena (1,563m) create this vast, unrivalled snow bowl.
SNOW GUARANTEE:
The Val Gardena guarantees fantastic conditions from 3rd December through to the end of the season on 11th April 2023, as 98% of all slopes can be covered with artificial snow.
NIGHT LIGHTS:
This season, Val Gardena is offering a ride on the dark side, with epic e-bike excursions, sleigh rides, torch-lit walks and snowshoe treks under floodlit slopes between January and April. Top off an evening with an unforgettable feast in one of Val Gardena's renowned Michelin hot spots.
TASTE SENSATION:
Val Gardena boasts some of the most sought after alpine restaurants in the world, four of which feature in the famous Michelin Guide:
Alpenroyal Gourmet * Michelin starred
The skilful Mario Porcelli from Puglia successfully combines nostalgic flavours from his native region with distinct Alpine influences, using sophisticated techniques.
Nives - Michelin recommended
A mountain style dining room with an unforgettable gastronomic experience, where modern fare is served with regional ingredients.
Suinsom – Michelin recommended
Meaning "at the summit" in local dialect, young chefs at Suinsom serve creative dishes with a focus on Alpine produce.
Chalet Gerard – Michelin recommended
Overlooking the Sella mountains and Sassolungo peak, this is the perfect piste-side location to while away the hours, serving high-class traditional cuisine. Doubling as a guesthouse, this chalet boasts a sauna, fitness studio and hot tub.
Anna Stuben, Ortisei * Michelin starred
Reimund Brunner creates sophisticated plates with a firm focus on local Alpine produce.
SLEIGH BELLS RING:
Val Gardena is home to the longest sleigh run in the Dolomites, where 6km of action packed sledging terrain unfolds. Catch the Ferrari-designed Resciesa gondola from Ortisei to Alpe Resciesca at 2,200m and hop on board an unrivalled sleigh ride by day or night.
TIME MACHINE:
Steeped in ancient geological history, where millions of years ago, deep seas gave rise to the mighty Dolomite mountain range, Val Gardena showcases artefacts from a bygone era in the Gherdeina Museum.
Step back in time on a journey starting millions of years ago, delving in to the geology, flora and fauna and archaeology, housing fossils and ancient tools. Visit the giant Ichthyosauras skeleton, resembling today's whale species, dating back 240 million years.
FOR WINTER 2022-23:
- Whizz off down the new black slope "La Ria", starting at the mountain station of the Dantercepies cable car, with a maximum incline of 52%.
- Take a new adventure, down the vast and spectacular "Pilat" slope, through forests over a length of 4.7km, with an average incline of 34%.
- Speed down the new Zip Line Monte Pana over 1,500m at nearly 100 km/h, 100m above ground!
- Dolomiti Superski joins the epic Ikon Pass, giving unlimited access to 47 ski destinations worldwide.
- Access the Legendary 8 ski slope adventure, connecting together eight pistes to form the ride of a lifetime. Tackle Saslong, Cir, Ciampinoi N3, Bravo, Falk, Gardenissima, Longia and Pilat to claim the ultimate badge of honour.
- Unlimited free buses across the Val Gardena region.
WINTER HIGHLIGHTS 2022-23
- Ortisei Christmas Market 2nd December 2022 – 8th January 2023
- Selva Christmas Market 5th December 2022 – 8th January 2023
- FIS World Ski Cup 16th – 17th January 2023
- Dolomites Traditional Dress Dirndl Ski Day 8th March 2023
- Rock the Dolomites Ski Party Week 20 – 27th March 2023
- Spring Ski Race from Seceda to Ortisei 25th March 2023
- "Gardenissima" Kids Day 1st April 2023
---
Related Pages