Freeriding, terrain parks and pistes
in Alyeska
Freeriding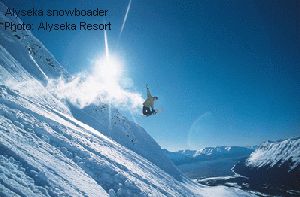 Freeriders who know the score, have a damn fine mountain to check out with some very challenging terrain on offer. The double blacks on North Face will give you the chance to go wild at speed, as will the double black listed as Max's. There is also plenty of intermediate freeride terrain with lots of okay red and blue trails both on and off-piste. If you hike to the summit, you can gain access to the Glacier Bowl which has a superb descent down a wide, open expanse of deep snow. For those not content with the easy access slopes there is heli-boarding and snowcats tours in the Chugach mountain range, where you will get to see Alaska as it should be, wild, un-tamed, spectacular, orgasmic.
Freestylers
Freestylers are well catered for here with an abundance of natural hits to get air, such as the nice banks on the Mambo. The resort also has a good terrain park which is furnished with a good set of obstacles. Alyeska 300 foot halfpipe is located on the Don's Gully area off lift 4, and is groomed to perfection with Alaskas only pipe grooming machine providing 10 foot high walls.
Pistes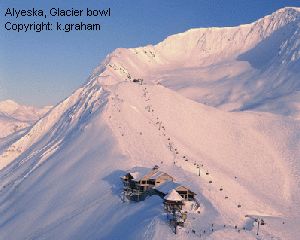 Carvers would be the ones to feel a little left out here, as this place couldn't really be described as a good carvers resort.
Beginners
Beginners don't have a vast area of novice slopes but what is on offer is not bad especially on the lower areas off Lift 3. Avoid this area at the end of the day as it becomes the busy homebound route for everyone coming down off the mountain.
READ NEXT: Village life, accommodation & nightlife
Resort Information
Location
Advertisement