Adelboden
Good spread out resort but not all connected with lifts. Quite a few flat areas but well suited for intermediate riders.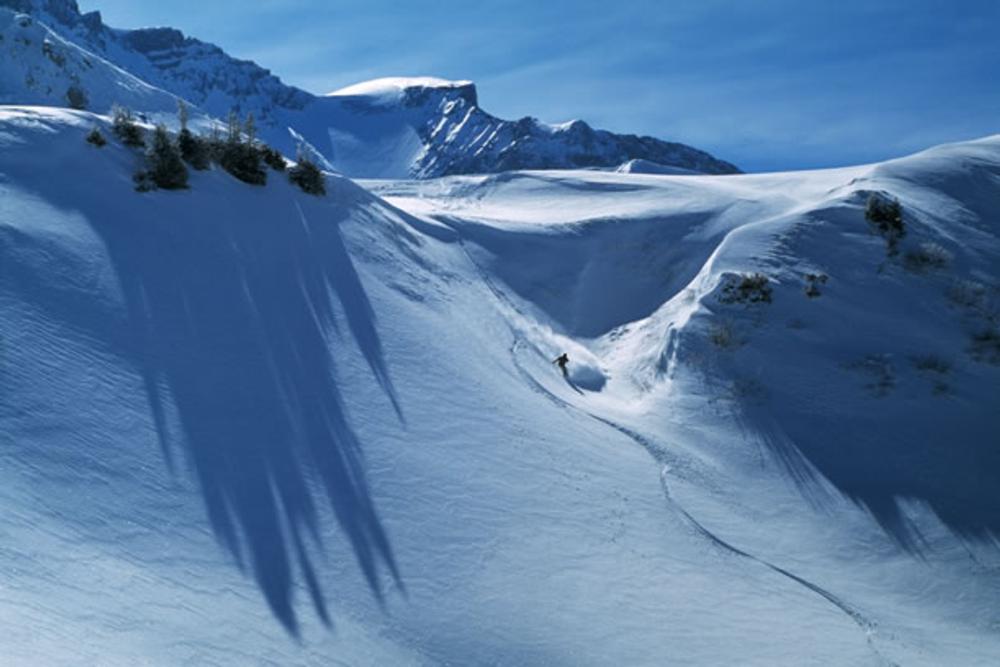 Adelboden Tiefschnee-Spass / Photo: PHOTOPRESS -Adelboden
Freeriding
Freeriders will find some stuff to keep themselves occupied with here but Chamonix it's not. The Geils area offers the steepest off-piste riding and there some nice couliers under the chairlift. The t-bar to Stand also opens up some good terrain (or take the chairlift to Lavey), from the t-bar just exit right and traverse across into any of the 3 valleys, just pick up the red 63 and don't drop down into the river bed unless a 20 minute hike out is your thing.
You can also find some fun terrain in the adjoining area called Engstligenalp and the small area of TschentenAlp. From the t-bar on TschentenAlp you'll find some very gentle powder fields, and off the chairlift there are abundant hits off the toboggen track that weaves all the way down. The freeride route 97 back down to Adelboden can suffer badly with snow cover.
Freestyle
Freestylers have a pretty decent park to ride - the Gran Masta Park. The park has features for riders of all levels, with a selection of kickers from 3 to 18 metres and rails/boxes of all shapes and sizes, but no halfpipe though. The best does place host to the Burton AM Tour. Many of the locals here like to ride the natural hits and have a number of secret spring boards that are tucked away, so hitch up with a local and go big.
Pistes
Boarders who want to stick to the piste will find that Adelboden will suit their needs perfectly, although there are a lot of flat cat tracks that may catch out the less-accomplished rider. The home run from Berglager to Adelboden is horrible, just horrible and flatter than yesterdays unfinished beer.You'll find yourself crying out why didn't they just put that lift 10m higher on a number of occassions, but most of the flat areas can be navigated once you know where they are by just tucking in and going flat-out.
There aren't many black runs so advanced piste lovers are going to be disapointed.
Beginners
Beginners have a mountain that caters for them in every aspect, good novice areas with easy access from the village, excellent snowboard tuition at the local snowboard school and runs serviced by easy to use and fast lifts, you will find a few drag lifts but these can be avoided.