Grand Targhee
A very good resort for powder hounds and freeriders. But this is not a place for the total novice nor for those individuals looking for a big loaded resort. If you are looking for a laid-back atmosphere and some wide open and challenging terrain, check out Grand Targhee. It is just over the pass from Jackson Hole, so it would be a less expensive alternate to J-hole for a day or two.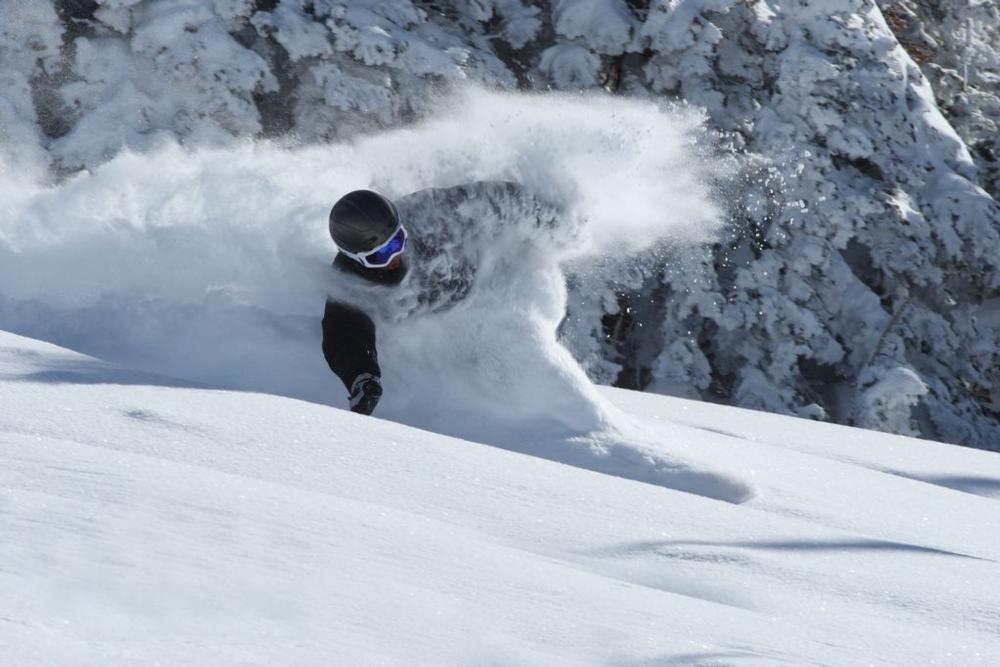 Grand Targhee Snowboarder / Grand Targhee
Freeriding
Freeriders will soon work out that this is a resort for them. The terrain on both mountains lends itself perfectly for both piste and backcountry riding. You'll find a number of steep black trails on Fred's Mountain, but most of them are quite short. You'll find plenty of open steep pitches where you can lay out a huge turn before getting into some nicely-spaced trees. If you want good freshies, get there early, and you might be in the chair behind a legend. Jeremy Jones rides here often before heading to Alaska in the spring, we were in the same hotel and on the chair behind him. Yea, it's that good. Although the most obvious freeride terrain is accessed via the Dreamcatcher lift, with good coverage, there is a lot of great freeriding off the Sacajawea lift too. Lots of natural jumps, tree slides, pow stashes and cliff drops can be found in every direction. Blackfoot lift also has good terrain if you don't mind the slower double chair. You can also ride perfect freeride territory with the help of snowcats - a local company offers snowcat tours for around $399 a day. Ride through the gates to the riders right at the top of the Sacajawea chairlift for some nice cliff lines. You should pick your line from Fred's Mountain before heading over to "Sac" so you don't get into trouble. There is also good hiking after it gets tracked, namely Mary's Nipple in between the two main mountains. A 15 minute hike will yeild you some steep powder stashes as well as some great views of Grand Teton National Park.
Freestyle
Freestylers have a many naturally formed gullies, cliffs and jumps to keep it fun if the snow is decent. There is also a killer boardercross circuit that needs to be treated with full respect. The Trick Town park has a number of rails & jumps, and they do a decent job for a "freeride" resort. There is also a beginners park, the North Pole. However, man-made obstacles aren't really necessary in Targhee; the place is riddled with natural hits, many of which are known only to the locals. However, the riders here are cool and will happily take you to the best launch pads and show you how much diverse, natural freestyle terrain there actually is. There is not a lot of emphasis on park riding here among the locals, but the new owners plan to improve their existing parks over the next years. If you are a park rat, go somewhere else for now.
Pistes
There isn't much grooming on a powder day, but when the snow isn't fresh they do a decent job of preparing the piste. There are some great steep twisting groomers to lay out a carve on. Some of the groomed runs are in wide natural gullies which is more entertaining than a midget in a tutu. They also groom around trees and other obstacles which can provide some fun rolling jumps.
Beginners
Beginners are the one group who may feel left out here. Although there is some novice areas around the base, there's not much of it. Still, if you're a fast learner then don't be put off.