Grand Targhee
A very good resort for powder hounds and freeriders. But this is not a place for the total novice nor for those individuals looking for a big loaded resort. If you are looking for a laid-back atmosphere and some wide open and challenging terrain, check out Grand Targhee. It is just over the pass from Jackson Hole, so it would be a less expensive alternate to J-hole for a day or two.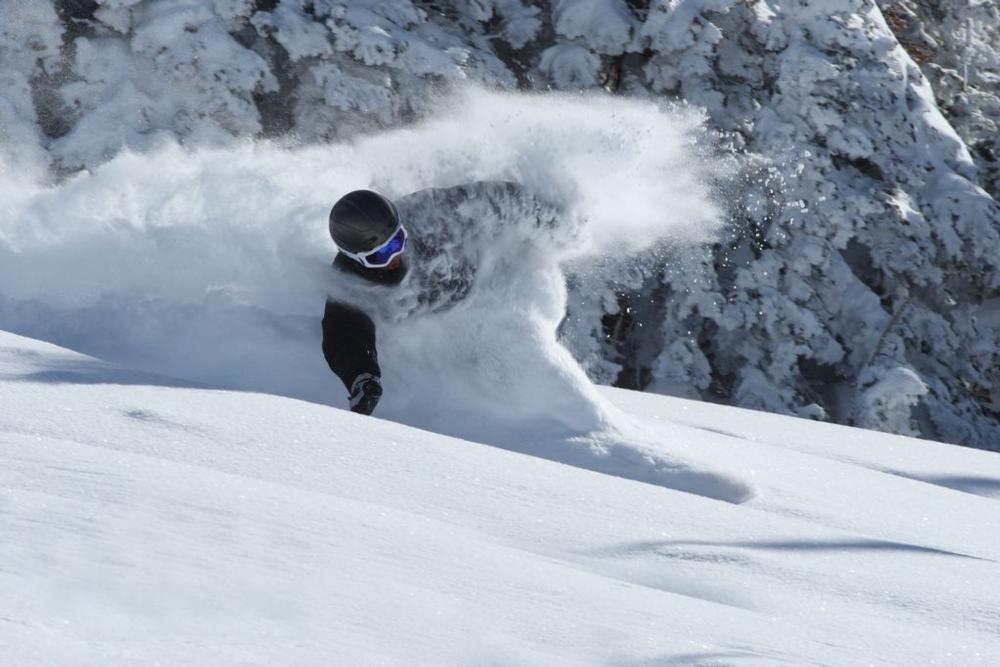 Grand Targhee Snowboarder / Grand Targhee
Town
Off the slopes what you get is both basic and very limited. This is God's country. There is only a handful of buildings at the base area offering a number of high quality lodges, hotels and a few local shops all close to the slopes (the new owners plan to redo the entire base area in 2010). The village has a very relaxed and laid back appeal to it, but if you're the sort that wants a resort loaded with the usual tourist gizmo's, forget it. There is an outdoor swimming pool and a few spa baths. Snowmobiling is another past time on offer, as is dog sledding. But overall your leasure time will mainly be taken up with either eating, drinking or sleeping. Still, the locals are a cool bunch. Furthermore this place is reasonably priced and can be done on a tight budget making a weeks trip well worth it. The nearest town is Driggs, 12 miles away.
Food options
Foodies on a serious quest to eat nightly at dozens of eatries are in for a massive shock. Grand Targhee only has half a dozen restaurants although the main lodges have their own restaurants. What is available, is very good. Wild Bills, centrally located in the Rendezvous Lodge, serves a variety of dishes all day long, with mexican dishes available alongside hot grills etc. Snorkels is noted for being able to offer a good breakfast while the Trap fries a good burger and at a decent price.
Accommodation
The resort only has 430 tourist beds available in a couple of hotel/lodges and in a condo unit. Various weekly packages are on offer from throughout the season. A two person condo at the Sioux Lodge will set you back some $500 for five nights. Call reservations for full details.You can stay cheaply at the Teton Teepee, a hostel/hotel that caters to shred bums and is just down the hill.
Nightlife
Night owls who normally ride hard during the day, and then party all night long won't be doing that here. Grand Targhee is a sedate family style hang out that doesn't go in for serious hardcore night-life action. There is almost zero here in terms of bars or discos, but you can have a beer in the parking lot with a cowboy. For Apres go to the Trap Bar in the base lodge, and get Kari-Anna to be your waitress. If you are lucky, you might catch some local talent. If you want to party late, you are better off going into Driggs or Victor. Check out the Wolf and the Notty Pine. And yes, there are some tundra wookies around if you aren't too picky. Get your beer before you drive up to the hill if you are on a budget. There is also a general store at the base area that is stocked with liquor and beer, but be prepared to pay.
Location