Laax
"Excellent snowsure resort with a good long season. The slopes are great for freestylers and freeriders alike, as well as suiting beginners. The resort can be slack at opening lifts and the off-piste gets tracked out within hours of a dump."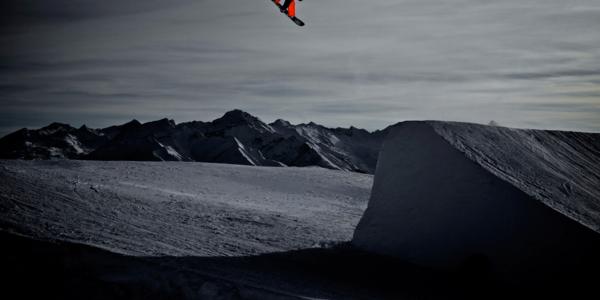 Mountain stats
Lift count : 7 x Cable-cars 4 x Gondolas 7 x Chairlifts 8 x Drag-lifts 3 kids lifts
220km of pistes
Pass (Low/High Season) : £33.61-41.70 Day, £161.83-196.07 Week
Laax and its smaller brother Flims are Swiss national treasures and pure snowboard heaven. This place is highly regarded by those snowboarders who know about it and what you have here is a full on snowboarder's resort that links up with the more sedate Flims. Together they form an area regarded as one of the most snowboard friendly places in Switzerland. The Burton European Open has been held here for the past few 4 seasons, and the BRITS series finals are also hosted here in mid March. When events are held here, it's not just the top riders that come to perform, some big name pop stars and DJ's also put in an appearance.
The Vorab Glacier opens in October with a basic terrain park, however it can take up to an hour to get up from the base. When the season opens fully in December the park relocates to its main place under the Crap Sogn Gion, and the Vorab area becomes a gateway to some of the best freeriding the resort has to offer.
Not many tour operators plague these slopes and if ever there was a mountain meant for snowboarders free of two plankers, this is it. Laax also has one of the best lift systems in Europe with lots of fast Gondolas whisking you up to the peaks, and you are seldom queuing for long despite its popularity. Beginners will also enjoy the fact that there are only a few drag lifts and they can be easily avoided without restricting yourself in anyway.
On the downside of things, the resort management can be slow to open some areas after a fresh dump and sieze any opportunity to close lifts, especially the Cassons area. Laax is no unknown backwater, and for freeriders wanting first tracks you'll need to be on the first lift, as everything gets tracked out incredibly quickly.
Accomodation and services are very spread out between Laax and Flims, but there is a free shuttle bus linking all the areas together. The base at Laax has significantly improved since the building of the new Rocks Resort; there are now a few more bars, restaurants and shops, but it has a slightly engineered feel.
Resort Information
Location
External Links
World Ranking
Advertisement