Obertauern
It's definitely worth a holiday for people who like to smell powder every day and don't wanna hike too much. Freestylers will have fun in the park, especialy intermidate ones who complane about too small kickers and obsticles but wouldn't go over the big mamas (6m high kicker) either.
Summary
Freeride - 75%
Great powder spots without hiking
Freestyle - 60%
Good park and some cool natural
Pistes - 80%
Great slopes for all abilities

Lift count : 1 x Cable-cars 18 x Chairlifts 7 x Drag-lifts
100km OF PISTES ( PISTES)

Pass (Low/High Season) : 36.00-36.00 Day , 161.00-177.00 6-day , 161.00-177.00 6-day linked area , 370 Season pass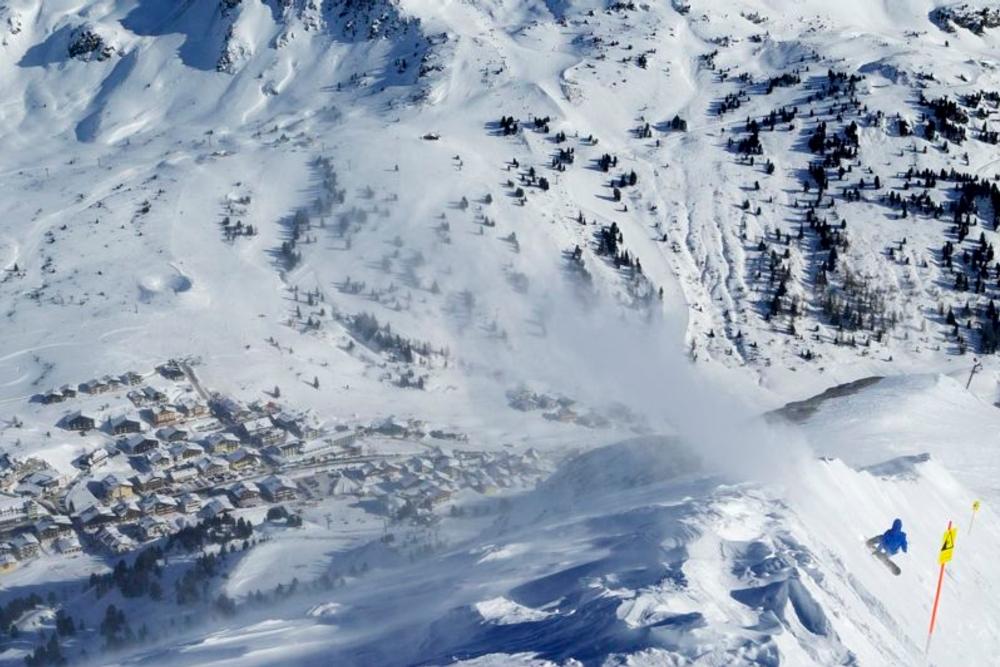 Obertauern / (c) Reen West
Introduction
Just when you thought that Austria was all the same, along comes Obertauern. The terrain is very much freeride-orientated with lots of areas to check out suited to all levels, and its noted for its excellent snow record. Obertauern is also home to Doresia and Heidi Krings, two pretty and pretty famous Austrian boardercrossers and it's probably no coincidence that they became so good, with a training ground like this on your doorstep.
You can basically pick your spot and head off-piste whenever you see some powder, and then pick up the piste further down the mountain. If you're in the know, or with someone who does then there's some excellent areas where you're almost always guaranteed to cut fresh tracks. A lot of these areas aren't particularly hard-core to get to, but they are nicely hidden from your regular piste hugger.
There are also some epic freeride opportunities that you have to hike to, but make sure you're with a guide or someone who knows the area and never forget your avalanche equipment. Obertauern is usually quite stable regarding avalanches but the devil doesn't sleep, so never take anything for granted.