Saalbach - Hinterglemm
Good easy freeriding, and great intermediate slopes. Apres ski gets pretty crazy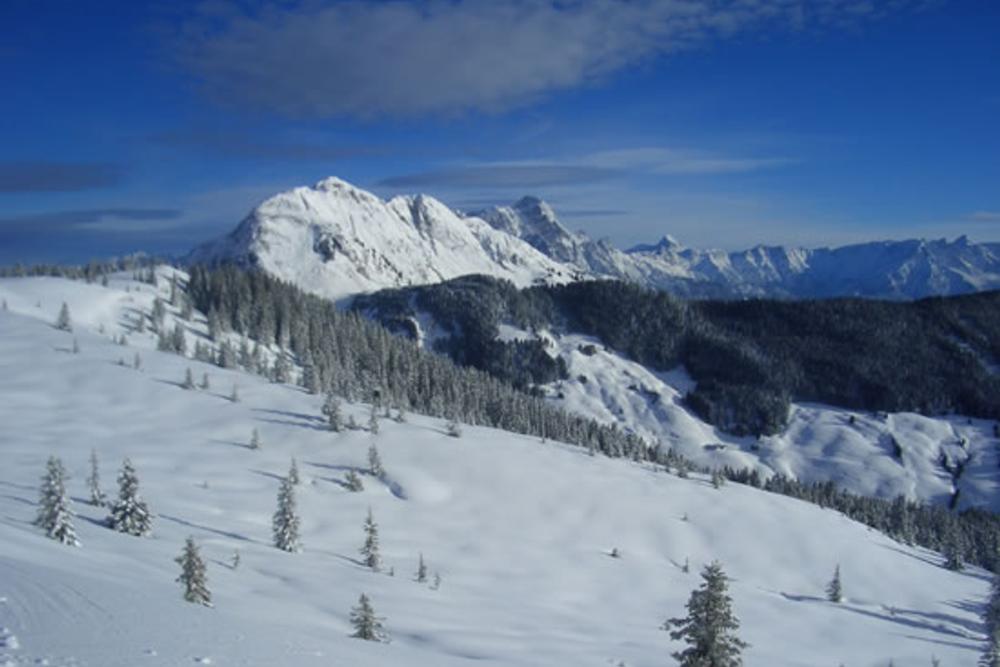 Saalbach / Photo: Woody
Town
Being a popular tourist place, the area can sometimes feel tacky and overpopulated - but don't let that put you off. Whichever village you choose to stay in, you'll find a high level of service and plenty of off-slope things to do, from shopping for tourist toys, pigging out, drinking or body fitness. It should be mentioned though, that nothing comes cheap as this is an expensive place. Spread out between the two villages you'll be able to find an indoor swimming pool, a bowling alley, numerous saunas and fitness gyms. Ice skaters also have an ice ring to perform on. Snowboard hire is available in both villages, with prices the same wherever you go. You need a passport as security when hiring.
Food options
You certainly won't starve here, but as with any resort if you have the cash you can eat like a king. There's many restaurants serving mainly Austrian cuisine, but you'll also find Italian and French restaurants. Both villages have a supermarket for take-outs and some very late night kebab and burger houses. On the slopes it's the usual expensive story, however the Alte Schmiede in Leogang serves fantastic made to order pizzas, and the Goasstal a mean gröstl
Accommodation
There's a good range of accommodation to suit most budgets. Unlike other resorts, location isn't too important in so far as you'll never be too far away from a lift. You can find Pensions from 20 euros per night. For a full listing take a look at their website, or if you're already there then you'll find the tourist information in Saalbach on Glemmtaler Landesstrasse who should be able to find you something
Nightlife
If youre not a fan of après ski then this place may be best avoided. If youre still reading then theres a choice of 32 après ski bars to pick from. Without question the Hinterhag Alm is the pick of the bunch, located at the top of the turmlift t-bar in Saalbach. Youll struggle to get in after 4:30 and the live band ensures everyones dancing on the tables. At 7pm youll stumble out and remember the only way back is to board back down the piste, and funnily enough, waiting at the bottom is the famous Bauer's Ski Alm which is open till 3am.
Over in Hinterglemm the Goasstal kicks off with strippers and live goats (no kidding), its also a good place for lunch. Away from the après ski scene the Londoners open till 4am and the Alm bars pretty good (yes there's a tree inside the bar). In Saalbach you can get your pool/darts/skittles and football fix at Bobby's pub, and theres a few clubs open till the early hours around the main square.
Location