Revelstoke
Located in British Columbia, Revelstoke Mountain Resort is Canada's Newest Ski Resort with the Most Vertical in North America – 5620 feet!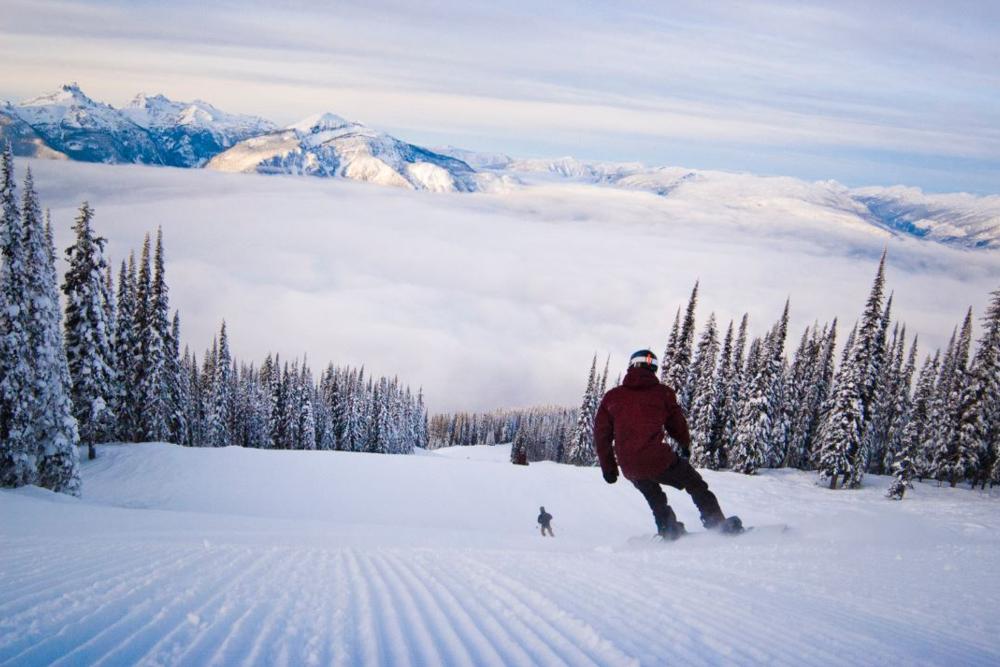 Revelstoke Corduoroy / Kevin Manuel
Freeriding
Where to begin… For anyone comfortable on hard blues and up, Revelstoke is going to be your new favourite resort. We say hard blues because, although the resort is 52.5% beginner/intermediate (7% and 45.5% respectively), a lot of the runs are scooped up by two cat roads taking you back to the two main chairs. That being said, if you're good enough to be comfortable riding cat roads, you're going to have a lot of fun at Revelstoke Mountain.
Let's start with the gladed riding; off The Stoke fun laps include Tasty Glades, Vertigo and the glades to skiiers left of Jalapeno (traverse high from the top of The Stoke and cut into the slack country – make sure you pick up the cat road back to The Stoke though).
Off The Ripper fun gladed runs include Back 40 Glades, "Stop at the Road" Glades and Powder Monkey Glades (lots of pillows, powder and natural features in here!)
Alpine fun can be had off The Stoke, entering North Bowl from 3 routes. The low traverse brings you out by Meet the Neighbours, the Lemming Line (a 5 minute non-steep bootpack) brings you to Drop In (accessing lots of fun) and Unlimited Assests (arguably one of the steepest pitches on the ridge) and finally there's the Sub Peak (a 377ft / 15 minute boot pack up from the Patrol Hut at the top of the Stoke Chair), earning you some pretty sweet turns down Discipline and Banana Hammock.
Most people choose the Lemming Line, a short walk for highreward. From here you can ride down into 3 Bears or traverse over into Gracias Ridge and Greely Bowl. Gracias Ridge has fluid riding, cliffs, chutes, drops and trees, with flatter routes to the right and gnarlier routes to the left (until you get cliffed out!). Any routes accessed from the Lemming Line or the Sub Peak will spit you out into what is locally referred to as The Gulley of Death or Buzz Kill Gulley, a natural half pipe which is only really fun the first few times or when there's 40cm of fresh to slash through.
Not to be dismissed is some epic riding off the Revelation Gondola. Early laps or late afternoon through Kill the Banker into Conifers of Gnarnia is a must.
Whilst you're in Revelstoke definitely check out the cat-boarding, this is the reason most people come to the area. K3 catboarding have a good reputation and for good reason. With access to 33,000 acres and 70 runs; from wide open bowls to trees on 50° slopes they will not disappoint you. They pick you up from your hotel and drive you to their base in the Monashee Mountains 40 minutes away.
From there the 2 groups are sent off into their separate cats and after a brief but thorough safety meeting the fun begins. K3 offers unlimited vertical, getting as much riding in as the day allows. Even lunch is served on-the-go with delicious sandwiches, wraps, cookies and drinks accessible all day, they really have got their priorities right. Whether you're by yourself, a small group or a large group wanting a private cat, K3 can accommodate. They will even sort out rentals if you need and many of the staff are experienced riders themselves.
Freestyle
Revelstoke added a new terrain park in winter 2015/16, underneath The Stoke chair. It has mostly small and some medium features and is pretty empty a lot of the time. With more than 20 jib features and a range of jumps, it's a great area for learning or refining new tricks. There is also a new 'Gnome Zone' beside the terrain park with kid-friend amenities and a fun little trail through the trees. But the real freestyle fun happens in the rest of the resort with hundreds of natural features just waiting to be hit or dropped and spun off. 
Pistes
There are some fantastic groomers off The Revelation gondola. Snow Rodeo and Wooley Bully are really fun wide blue runs with rolling pitches and playful hits. Higher up off The Stoke Chair head to Pitch Black and Devil's Club and you can pick up Snow Rodeo from the top. Check the daily grooming board to avoid ending up on an ungroomed piste… unless you like bumps!?
Beginners
Revelstoke is not really beginner terrain… Based on their own snowschool ability charts, unless you're a complete newb or a level 4 (out of 6) or above you're probably going to get bored of the greens and hate cat roads more than you imagined. The two magic carpet areas (Turtle Creek at the base of the Revelation Gondola and Little Bit at mid-station) are good enough to learn the basics on but beyond that the greens mostly serve to scoop up all the blues and blacks Revelstoke has to offer.
Intermediate riders will love the challenge of learning how to navigate trees with some fantastically gladed runs in easy access. Tasty Glades and Aspen Glades are great ones to start with.