Revelstoke
Located in British Columbia, Revelstoke Mountain Resort is Canada's Newest Ski Resort with the Most Vertical in North America – 5620 feet!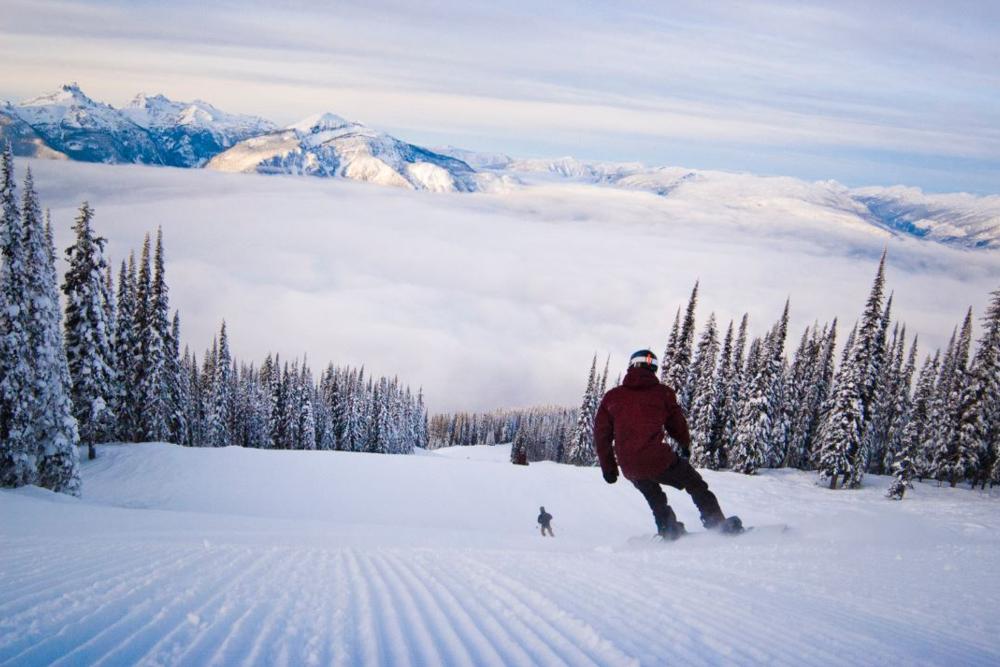 Revelstoke Corduoroy / Kevin Manuel
Town
Revelstoke is a quaint little Canadian town which - in Canadian standards - lies not far two international airports; Calgary and Vancouver (both a 5-6 hour drive). Revelstoke gives off a less touristy vibe than other resorts, with not many people strolling around town or on the hill. The locals live there for the powder and the visitors visit for the same reason, consider it a powder Mecca. So much so, that Revelstoke is where the pro-riders come to play, constantly being tagged on their social media networks, most make at least one visit a season.  Although you'll mostly hear about them hitting stashes of blower pow in the backcountry, there's fun to be had inbounds too.
The town is made up of a few blocks with shops, cafes, bars, restaurants and hotels. There's also bowling, curling and a cinema to keep you occupied when you aren't shredding on the hill. Society Skate and Snow and Free Spirit Sports is a good place to get any items you left behind, or if you're just tempted to upgrade your gear. 
Food options
At the base of Revelstoke mountain your food options are limited. A cute coffee shop called La Baguette offers your usual coffees, breakfast and lunch options, ice cream and a few grocery items. It's a good option for those that want to get up the hill quickly. There is also The Rockford Wok Bar & Grill (serving breakfast, lunch and dinner) and The MacKenzie Common Tavern serving lunch and dinner and offering a fun après spot. If you're staying at The Sutton Place Hotel all suites have a small kitchen which makes dining-in an option. The free shuttle to town they offer is very handy if you're wanting to eat out.
On mountain food stops include the MacKenzie Outpost (at the top of the gondola), and the larger Revelation Lodge (at mid-station) and the former of which only serves snacks, burgers and a few drinks.
Downtown are many more dining options with a surprising variety of food given the small size of the town. Pick from grills, burgers, pizza, sushi, Mexican, Chinese and Italian. The Modern Bakery rivals La Baguette for a great café spot and notable mentions for dinner include The Taco Club, Chubby Funsters andThe Craft Bier Haus which not only offers 15-20 craft beers on tap but also the most creative and delicious mac & cheese menu you've probably ever seen. Sushi your thing? Check out Kawakubo for a Japanese feast. 
Accommodation
If you can afford it, you won't regret staying at The Sutton Place Hotel at the base of the mountain. It's Revelstoke's only ski-in ski-out accommodation and offers a free shuttle which takes you into the centre of town so you can shop, drink and wander in the evenings. Their suites are generous, well equipped and modern with small but fully functional kitchens. An outdoor pool, several hot tubs, a spa, underground parking, a fitness centre, restaurants and ski lockers means you never have to actually leave the small little village they've created at the base of the gondola. If you do want to, the shuttle leaves every half an hour until 10.30pm (from the hotel) / 10.45pm (back from town). And whilst you wait you can grab a complimentary glass of wine in their beautiful main lobby as part of their daily Welcome Reception hosted by the friendly concierge team.
Other accommodations in town include the cheap and cheerful The Cube andSamesun Backpackers Hostel, for mid-range options check out the Best Western Plus on the outskirts of town or The Regent in the centre of town. 
Nightlife
If you're looking for wild après or a big night out, Revelstoke is not your town, although these can be found if you're really motivated! Revelstoke hosts a few casual pubs, sports bars and a "nightclub". First time to Revelstoke means you have to have at least one drink in the Village Idiot (sat at the bar on your stool made from an old pair of skis) which can get pretty rowdy with certain crowds. The Cabin is a lounge bar come bowling alley come snowboard shop all rolled into one establishment, don't plan on getting a bite to eat here though. The Last Drop is a fun lounge bar with live music, jam nights and stand-up comedy. Finally, Outabounds and Traverse are Revelstoke's 'Nightclubs' but pick your nights wisely! 
Location