Chamonix
Chamonix offers some truly excellent freeriding and great natural freestyle terrain. It's not great for beginners and can suffer if there's not much snow. It's rough round the edges - but therein lies its charm. If you can, wait until there's fresh snow then jump in your car.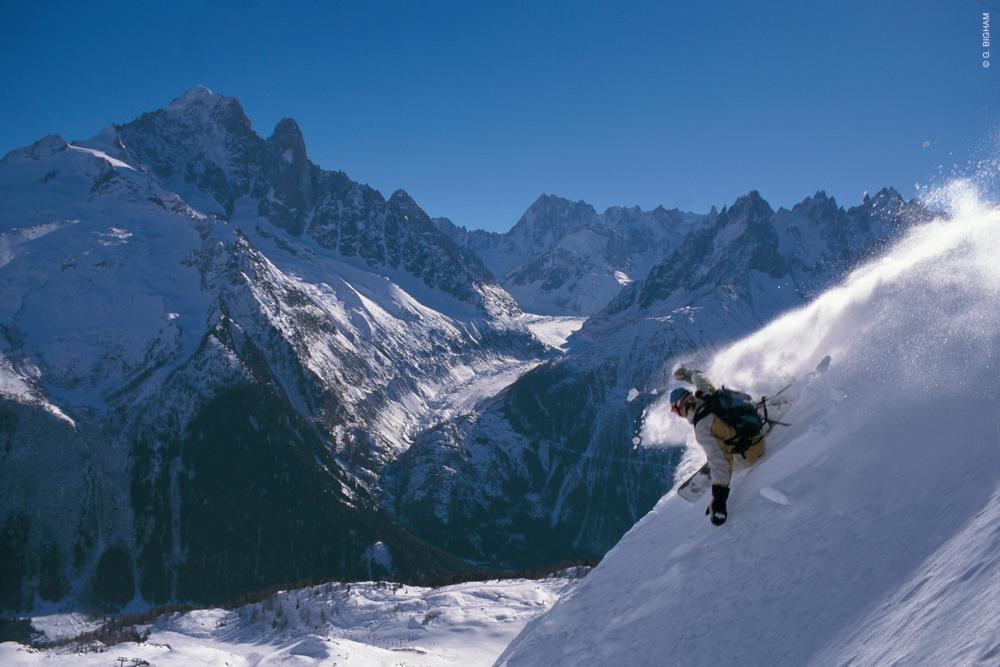 Chamonix freeride / Photo: Chamonix tourism
Freeriding
Freeriders Chamonix can be heaven and hell. With good snow its the big one when it come to hardcore riding. Youve got it all - steep faces, glacial runs, trees and couloirs. With little snow you may find yourself spending more time on the lifts and in the pub than on the slopes.
With a 6-day pass you get 2 rides on the Grands Montets cable car (after that youve got to get your hands in those pockets) and from its top there are two black pistes, Point de Vue and Pylones, with heaps of off-piste alternatives, including skirting the impressive Glacier dArgentiere. From the top of the Bochard bubble you can head into the Combe de la Pendant bowl for 1000m of unpisted descent. The runs down are amazing with loads of cliffs, hits and chutes, but the area can be avalanche-prone. Out of La Tour are some fun tree runs towards the Les Esserts chair, with small drop-offs just big enough to ensure you keep your wits about you, dont get carried away and head down too far as youll end up walking back up to the lift.
The world-renowned Vallee Blanche is great. It takes 4-6hrs, involves a cable car ride, a few uphill sections and sphincter-testing ridge walk. Although the 20km decent isnt the most challenging of terrain, the surrounding ice and scenery are fantastic. Youll need to stump up for a guide as theres crevasses to fall into and its best to do it early on a week day when its less crowded.

Freestyle
Freestylers don't need a fun-park here as theres lots of natural hits and drop offs. La Tours is a good place to head. It seems that the attitude is to build a pipe for competitions and then leave it to melt, and after 2005's late cancellation and future move of the ChamJam to the Pyrenees, who knows when the next comp will be?
Anyway, Chamonix is a freeride mountain resort, so if you want something manmade, go elsewhere. Having said that, there is now a permanent pipe on the Grands Montets, but it's not the best.
Pistes
Carvers will be out of luck as the pisters here spend more time drinking pastis and smoking gauloises than grooming the slopes.  
Beginners
Beginners will find Chamonix s slopes a little sporadic, there are greens and blues but they're so spaced out that its best to learn to ride elsewhere and then come here once youve got it nailed.