Chamonix
Chamonix offers some truly excellent freeriding and great natural freestyle terrain. It's not great for beginners and can suffer if there's not much snow. It's rough round the edges - but therein lies its charm. If you can, wait until there's fresh snow then jump in your car.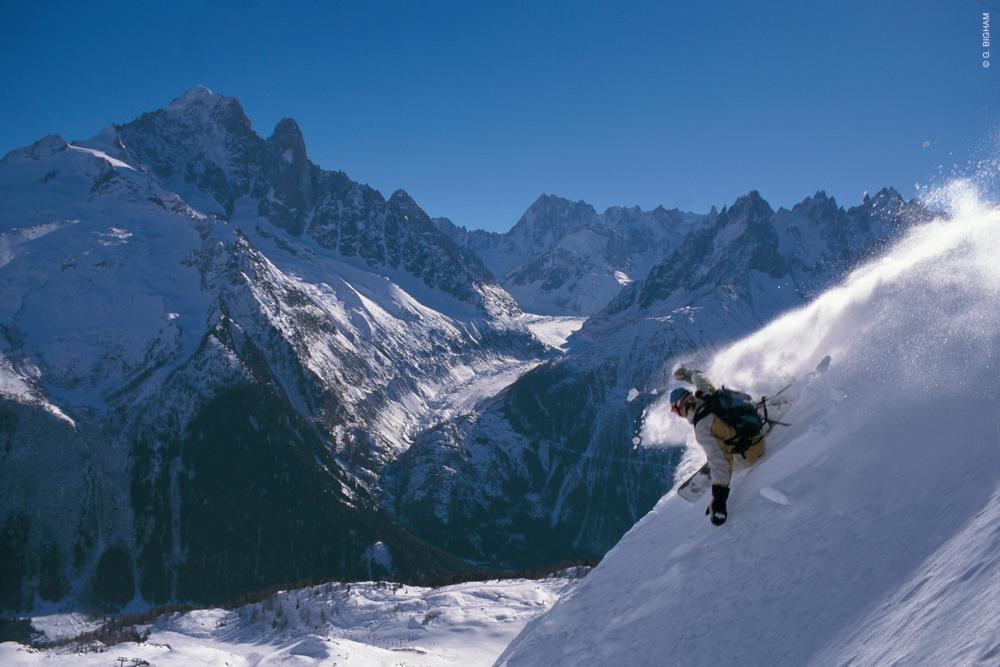 Chamonix freeride / Photo: Chamonix tourism
Town
One of the plus sides of Chamonix being a
real town
is the fact that theres no attitude. The locals are used to visitors all year round and they know where the cash comes from. Youll see people skateboarding to work, which is something youd never see in the more stuck up French resorts. There are also plenty of things to do in Chamonix with a large sports centre, swimming pool, climbing wall, arcades and a bowling alley.
Argentiere
at the head of the valley has a good choice of bars and restaurants and is a great place to stay as its close to the two best boarding areas. Le Praz is very quiet with little on offer, if you are going to walk into Chamonix town take a torch as the French drive like white van man.
Food options
Food choice is good here - theres the French norm of pizzas and melted cheese, but theres also a wide variety of pub food and cellar restaurants. In the main pedestrian area there is a great hole-in-the-wall fast food joint which always has a fast-moving queue outside. Try their Americana sandwich.  
Accommodation
Accommodation is varied. You can get a bed in a bunk house for £10 or get yourself a nice hotel room. The tourist office are really helpful if you arrive needing a bed. Go to www.chamonix.net for a good range of accommodation. Theres lots of self-catering apartments, particularly in Chamonix sud. For an all-inclusive snowboard-centred chalet holiday and also training weeks, go to www.mcnab.co.uk. If youve got a car theres a great bunk house at the head of the valley near Le Tour, on the road towards Italy.
Nightlife
It can be a real party town with lots of bars having happy hours and cheep jugs of beer. The centre of town has a bar for most and a few late-night clubs like Dicks Tea Bar (set to reopen after a fire in 2005/6) and the Jeckyl and Hyde. Theres lots of English bars, some popular with the Swedes, theres even a Queen Vic and a good night can be had at the Cantina. The Office bar in Argentiere is good for a beer and has a tex-mex menu which is reasonably priced. There are also a few French bars which are a little cheaper. Le Praz has a couple of very local bars.
Location