Les Arcs
A great freeriders resort with lots of off-piste and powder, plus natural hits to explore. A major tourist spot with lively nightlife.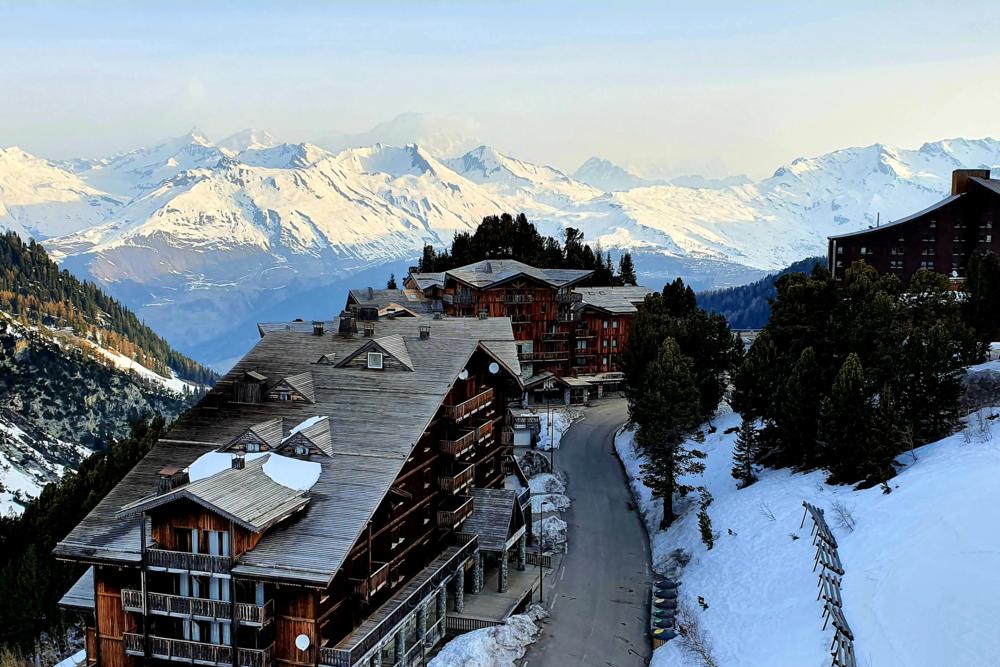 Les Arcs 2000 towards Chamonix / (c) Steve - WSG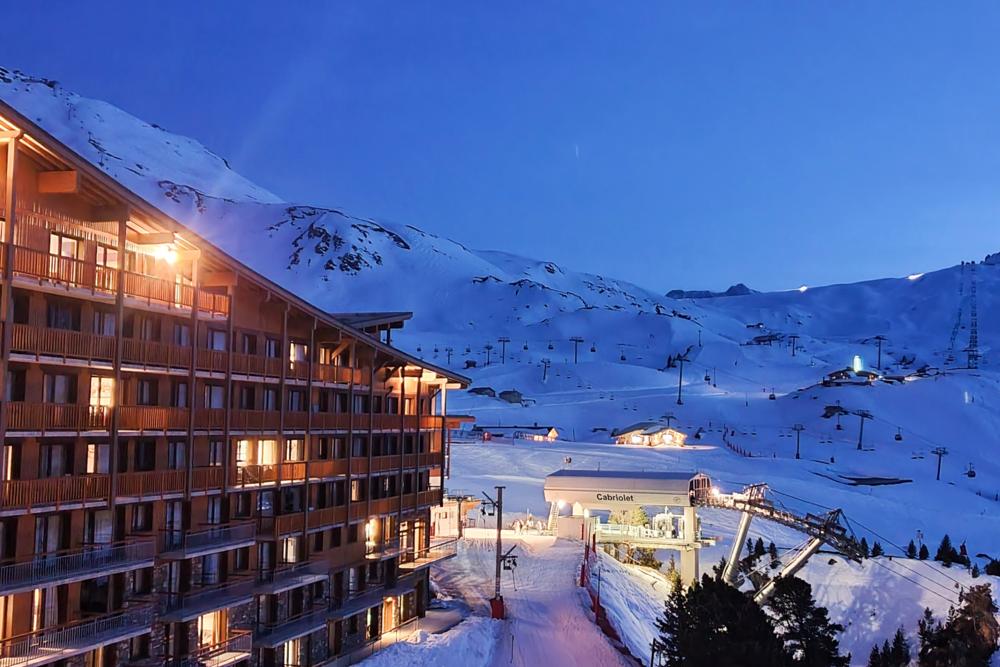 Les Arcs 2000 evening / (c) Steve - WSG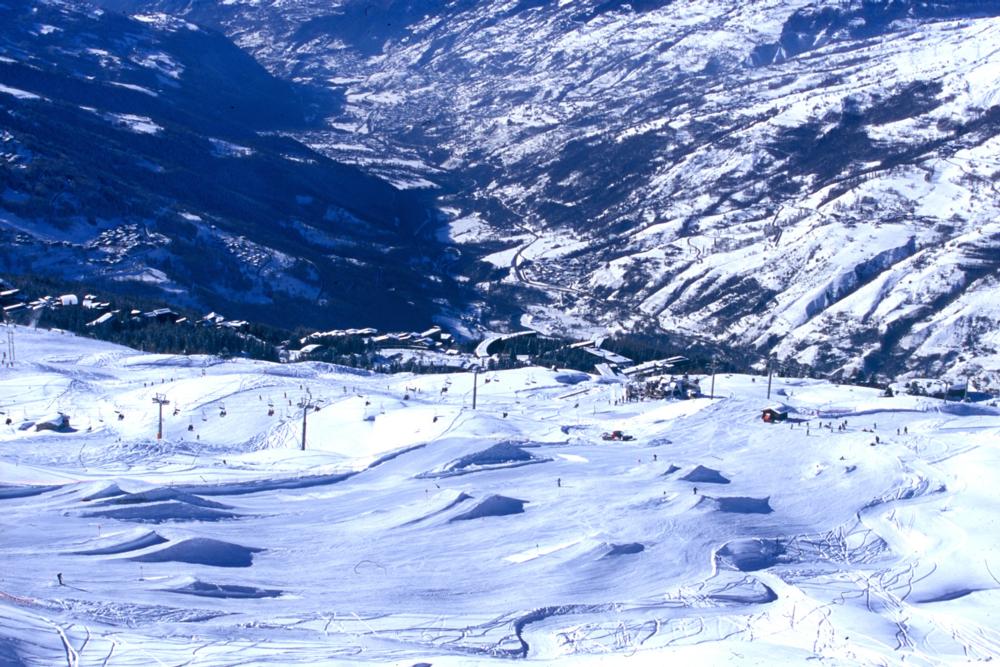 Terrain Park / Copyright: scalp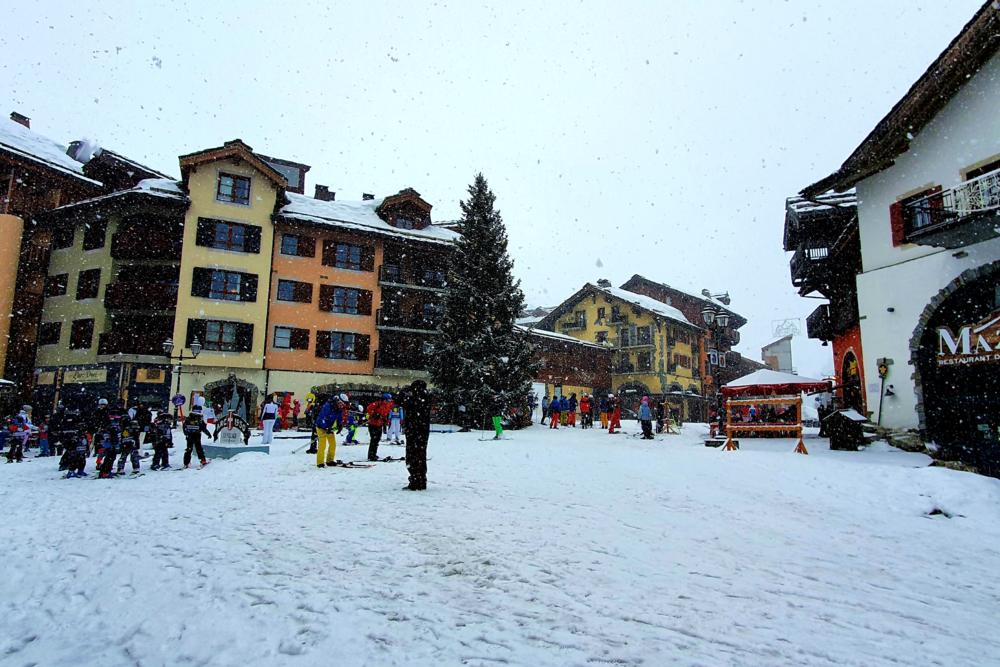 Les Arcs 1950 / (c) Steve - WSG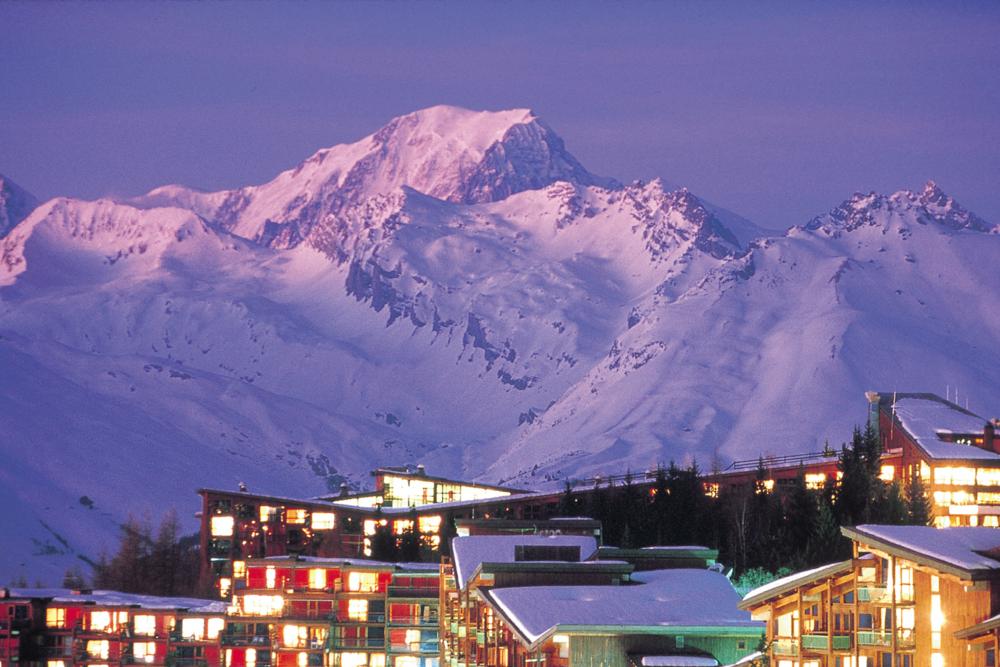 Sunset at Arc 1800 / Copyright: OT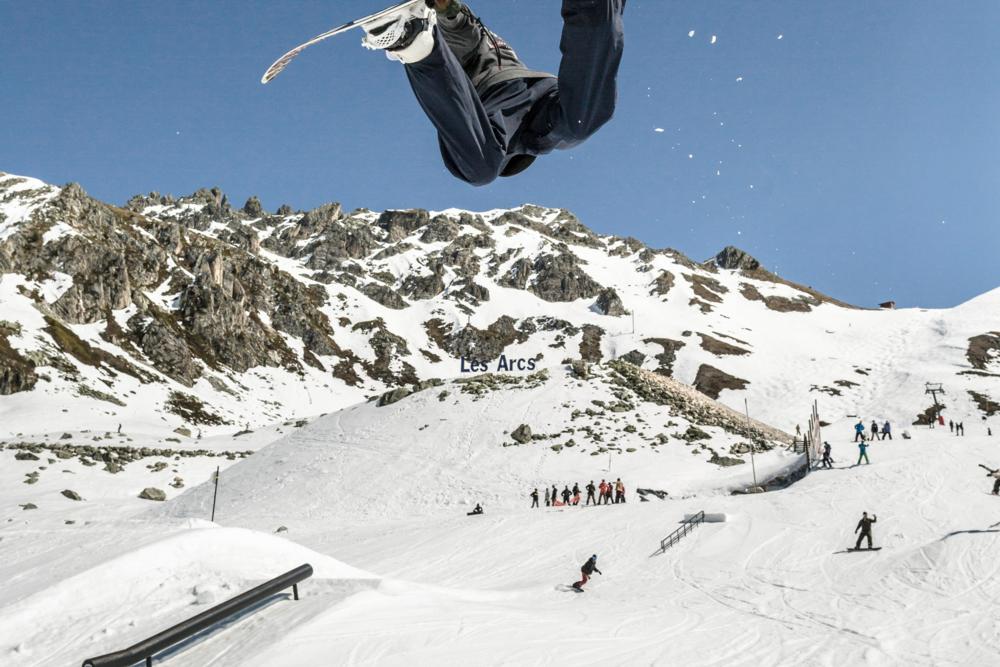 Les Arcs Apocalypse Snow park / (c) Les Arcs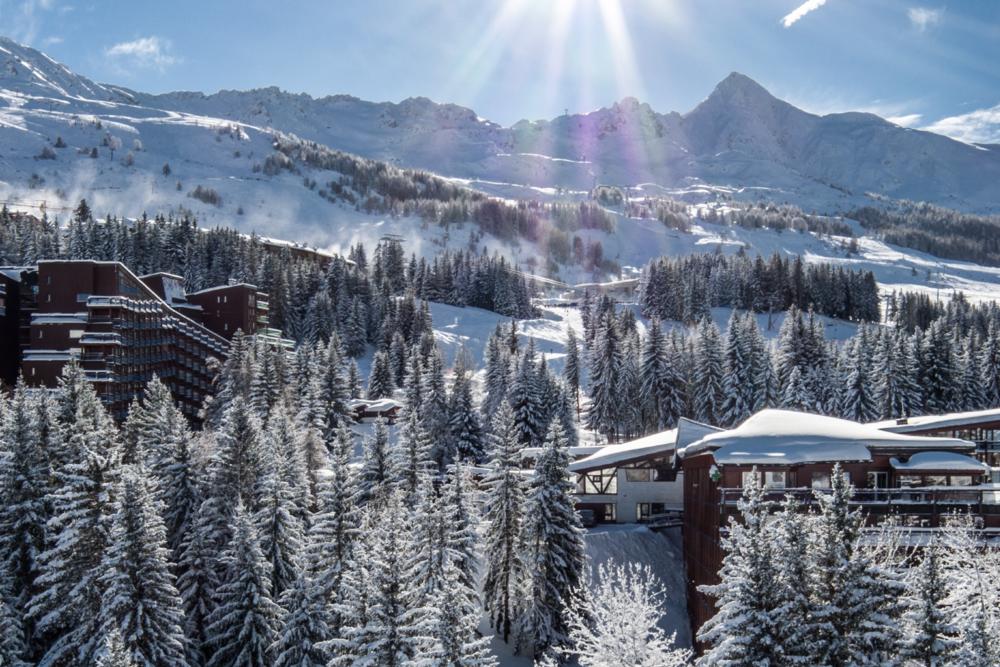 Les Arcs 1800 1 / (c) Les Arcs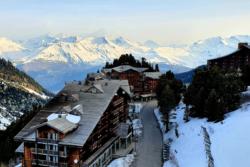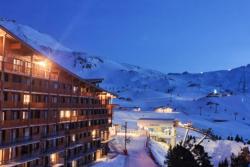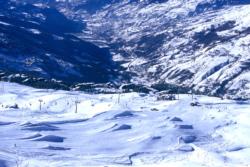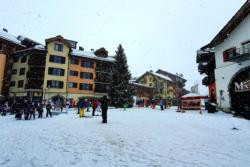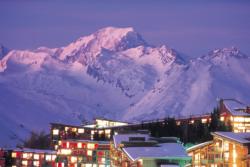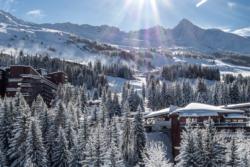 Freeriding
If you want a bit of inspiration of what Les Arcs has to offer, then look no further than the classic Apocalypse Snow films. They may be approaching 30 years old, but it goes to show how important Les Arcs have been to European snowboarding.
You can ride some of the locations with the main man Régis Rolland himself, it costs 320 euros for 6-days ( mornings or afternoons) https://www.ecole-de-ski-les-arcs.com/en_tarifs-snowboard
Back to the resort, it's generally a pretty easy place to navigate with plenty of obvious areas between the pistes or dropping off some of the paths eventually ending back to a lift. Above 2000m and its pretty barren, below 2000m and its heavily wooded in places. You'll find some of the best tree runs between the Derby 69 and Charmettoger chairs, the Mont-Blanc chair and Droset
If you're not afraid of a hike, are suitably tooled up and have a guide or knowledgable local then there's a few classic long descents to look into. From the top of the Grand Col you can have a long hike and take the Col Des Roches route that will eventually lead near to Peisey-Nancroix where you can pick up a bus back to the lifts. The other one off the Grand Col is a shorter hike in the other direction and heads round the back of the Aiguille Rouge down to Le Pré where you can pick the Villaroger lift. There is a shorter and easier route that joins up to it off the Aiguille Rouge piste; you'll see the signs near the top of the Lanchettes lift.
Freestyle
The Apocalypse Snow park sits around the Col des Frettes area and is accessed via a tunnel off the Arpette piste. Generally it starts with some parallel kickers lines leading to more of a jib focussed trail back to the Arpette lift ready to do it again. The park is pretty well setup for all abilities, except any visiting pros.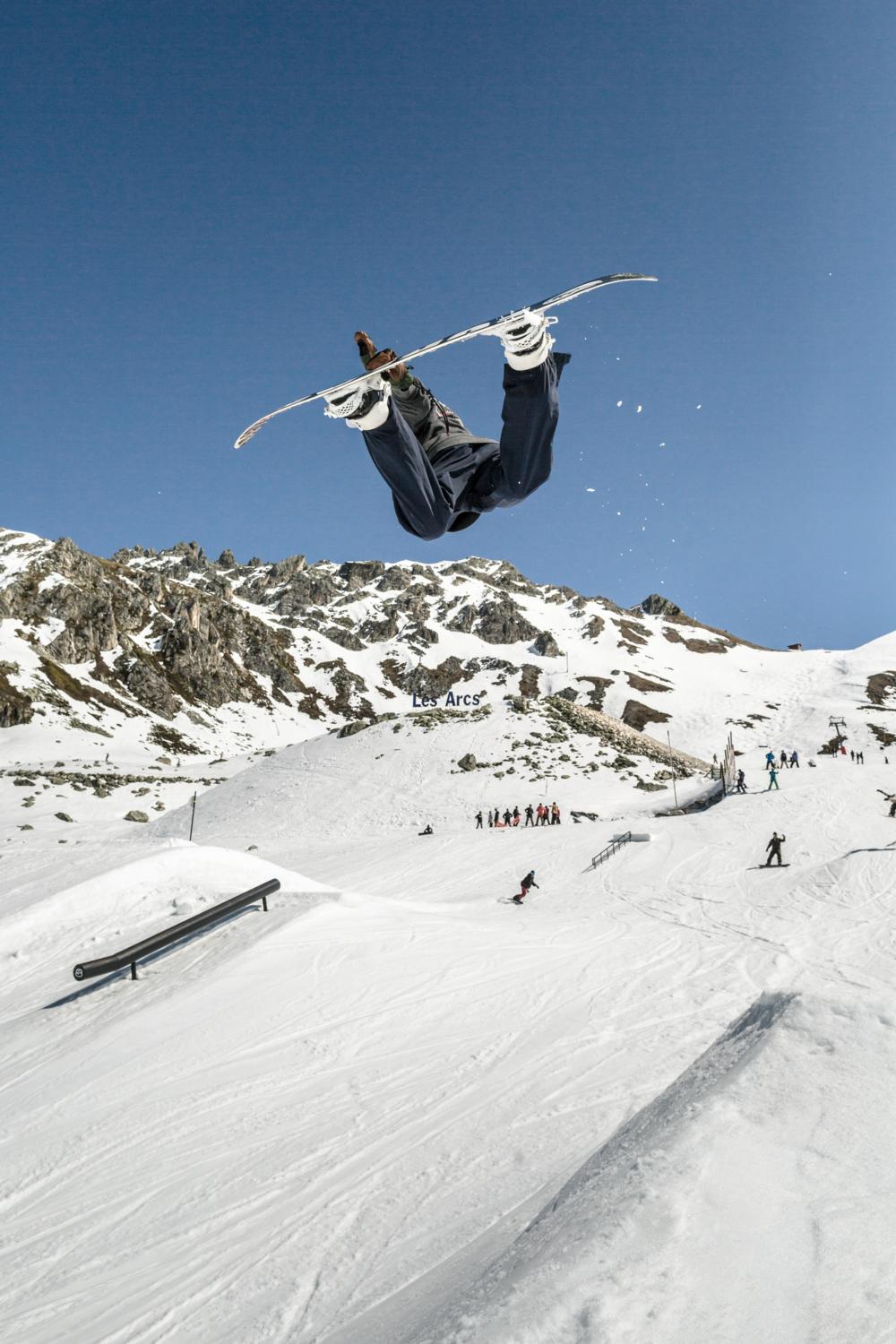 Away from the park you shouldn't have any difficulty finding features with plenty of small cliff drops, laden tree stumps and side-hits along many of the pistes.
Pistes
The ski area is vast and whilst the gradient of the slopes is generally pretty mellow, there is a good variety of runs from the open slopes above 1950 to the wooden runs down to the lower villages.
Things can get super busy where runs congregate, so you'll need to keep your wits about you and slow down a little.
There are a number of pretty flat tracks linking the whole area together; once you get the run of the place, you'll quickly figure out where you need to keep your speed up to avoid any scooch leg.
You won't find too many steep slopes, and the majority of the black runs are left natural and not regularly groomed, which usually means you'll want to avoid them as they get seriously moguled.

Beginners
There are few resorts in Europe that can claim to be as good for snowboarders to learn than Les Arcs. Get away from some of the pinch spots close to the villages, and things get a lot less busy and you can start to relax a little.
Most of the lifts are chairs, and you won't find any t-bars or pomo lifts to contend with. There are a few gondolas dotted around but apart from the one serving Vallandry they don't really cover any beginner areas.
Up at the top of the Vallandry area ( Take the Vallandry 74 gondola ) is a nice purpose built beginner area that doesn't get too much traffic from adjoining pistes. There's a magic carpet lift for first timers, and once you've progressed and starting to get your confidence, the Foret des Pitchouns is a super fun run with a few tiny freestyle features to test yourself on. This area is also home to the new Animal museum and an useful indoor picnic spot for when you need to take a breather.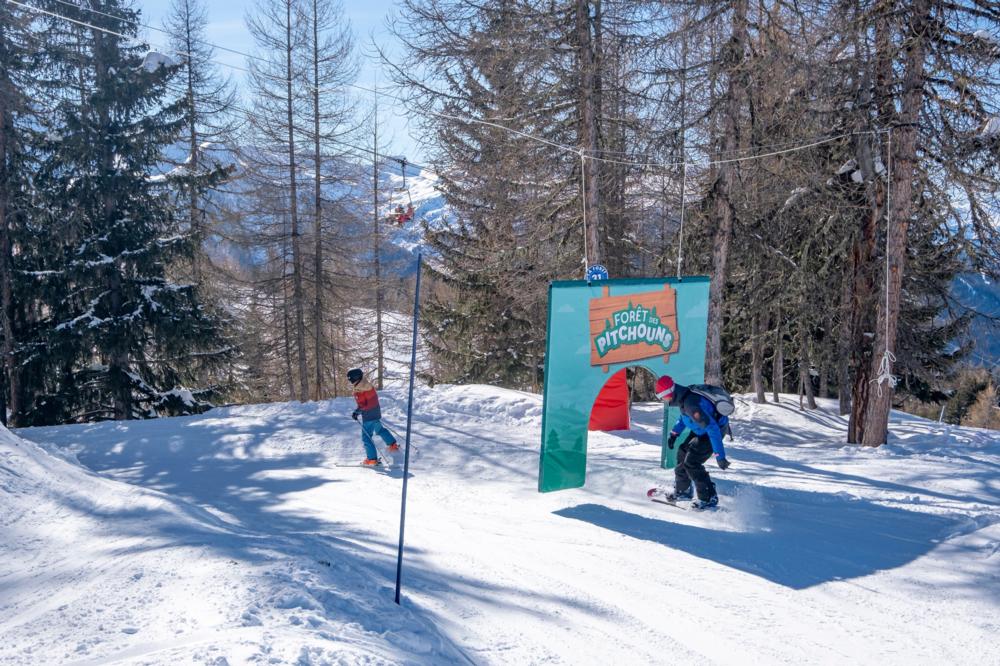 If you need lessons then make sure when you book that they offer lessons in English, most will but still check. Obviously ESF are all over Les Arcs, and Evolution 2 have a heavy presence too. There is a dedicated snowboard school based in Bourg called High Five Snowboard School which offers group & private lessons, and is worth checking out.
You can also get special beginner lift passes, they will only cover a specific area of the resort, but if it's your first time and will just be on the beginner areas then it's well worth looking into. Do check with your ski school if they cover enough of the area they'll be taking you, and the passes are only available to purchase in the resort, but the Peisey-Vallandry one will cost you a third of the price of a regular all area pass.