Val Thorens
Tacky with loads of skiers, but access to great terrain
colwidth:6 firstColWidth:12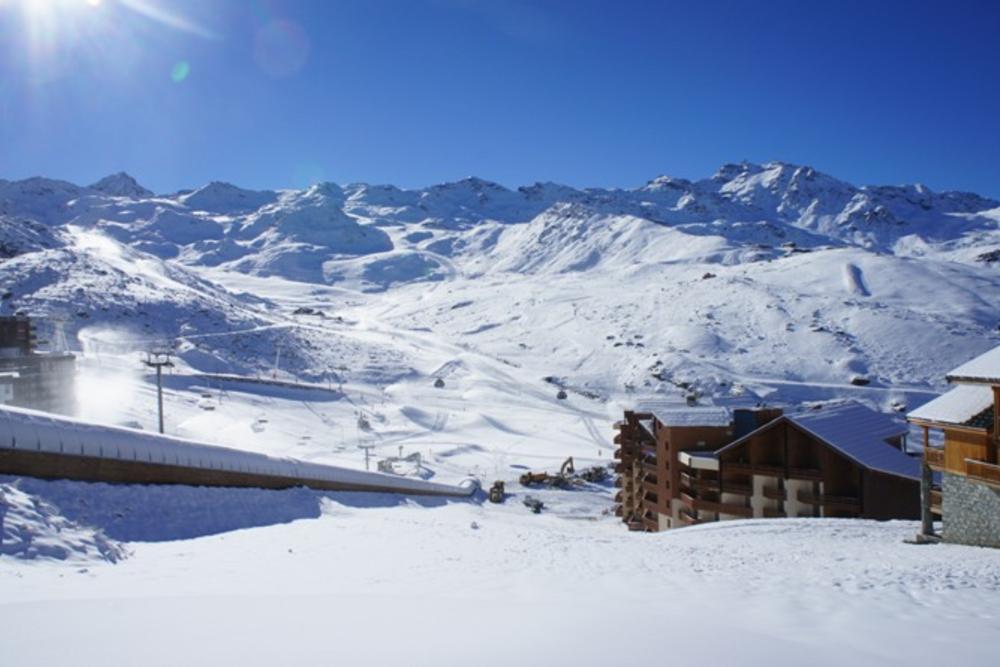 Val Thorens Snow Fall 08/11/2012 / Nadine Carle-Edgar
Freeriding
Freeriders have much choice.Take a trip up to the Cime de Caron for the best view in the Trois Vallees, and then drop down the back side or follow the long sweeping red or black down. Intermediates should try the long, wide red runs around Fond 1, Boismint or the Peclet Glacier.
The expert will relish the sheer volume of challenges on offer, from powder snow on the glaciers of Peclet and Chaviere, to world-class, mogul bashing on the long, steep Cime de Caron black run. If you have a head for heights, then visit Le Plein Sud, where you can cut some nice couloir descents.
If you can handle a walk, get a guide and head up left from the top of the Col Chair, over the Col de Gebroulaz and ride the Glacier de Gebroulaz down into the Meribel Valley for a truly amazing run.
The resort height gives good snow but no trees - so if you want to pretend to be James Bond, head for Meribel.
Freestyle
Freestylers have a dedicated snowboard park serviced by the 2 Lac lift, which has a boardercross circuit and a 110-meter long halfpipe. However, these are only kept in tiptop condition during a competition, rather than on a regular basis. There are some good natural hits but mainly drop-offs.
Look out for the Val Thorens board week in early December


Pistes
Riders have a stupid amount of pistes to fly down. The Cime de Caron is a well-established black run that tests the best speedfreaks and raceheads, and its also possible to have snowboard slalom training with poles - ask at the tourist info.


Beginners
Beginners have a variety of easy runs leading into the resort, which allow for easy access and steady progression. You dont have to travel far from the resort base before getting to a novice trail, but be advised there are heaps of little kids in bash hats that take up space while snaking down behind their all-in-one red-suited ESF instructor.
If you want lessons, try one of the independent ski schools which should have a board specialist. If they dont, go elsewhere.