Sestriere
Nestled at the centre of the wider Milky Way ski region Sestriere is an ideal place to base yourself if you are wanting to get some serious riding under your belt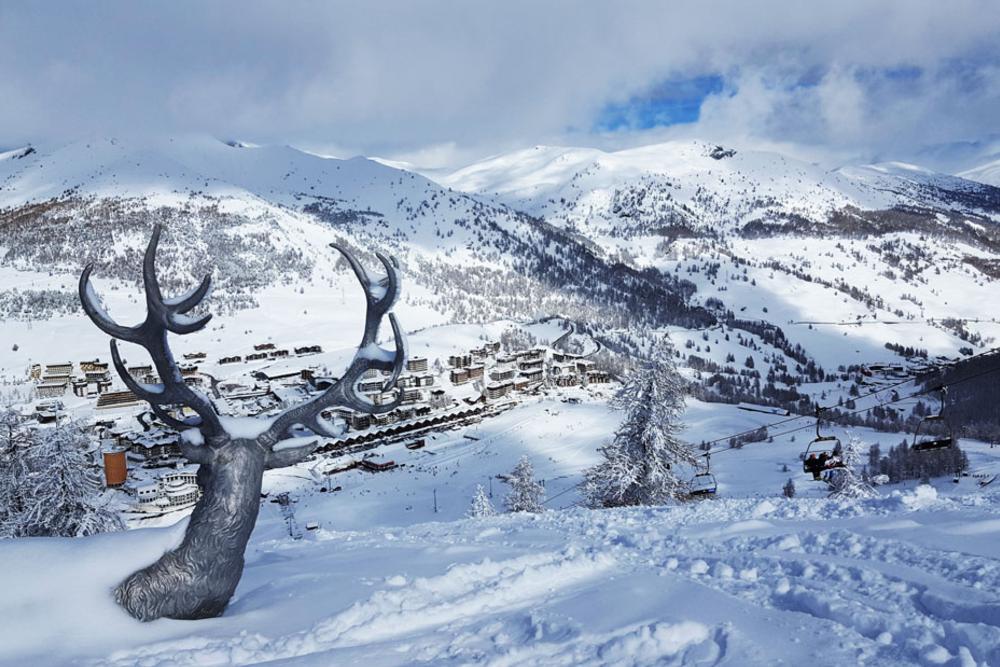 Deer Sestriere / Michael Whittaker
Freeriding
Sestriere and the surrounding areas have huge freeriding possibilities. Follow the piste map to the right of chairlift 19 you can find some of the best powder between pistes 8 and 32. For the real serious stuff we recommend getting a qualified guide the Scuola Ski Sestriere offer specific freeriding trip.  
Freestyle
Freestyle riders have plenty of options dotted around the Milky Way area and Sestriere itself is no different head up the T-bar at Borgata and turn left to hit the board park, the 300 metres long park is neatly laid out with lines for advanced, intermediate and beginner riders.
There are plenty of kickers and rails offering a clear line of progression meaning you will be able to choose a line to meet your ability. It's not the world biggest park by any means but it is well run and professionally maintained and easily accessed.
Pistes
You could easily spend a whole season In Sestriere ticking off all the surrounding areas of the Milky Way, but if you are here for a week or two you will have plenty to crack on with in Sestriere alone. However, to get most out of a week here we highly recommended spending at least a few days taking in a day at Sauz d'Oulx and Sansicario which are all accessible on the same ski pass to get to these head to the top of the main gondola.
Intermediates who like to carve long runs will be in their element in Sestriere. If you like long pistes and are after a real leg burning piste, head up the gondola and take piste46 a long wide blue carves gently to the gondola midsection this is a wide perfectly pitched slope for carving and even lapping. If you carry on piste 46 past the gondola this runs to more or less the base of the resort.  Lower down the piste it narrows and you will need to straight line it at parts. It can all be done without unclipping though as long as you are fairly confident on the narrow stretches. If you do have to unclip there are some spectacular views here so it's well worth making the trip either way and although the pistes here are less steep than higher up your legs will be burning if you have rode from top to bottom.
Advanced riders have a selection of black pistes in Sestriere accessed by chairlifts 17 to 19 these offer the most challenging terrain. For those brave souls willing to try out a steep run combined with a steep poma head to the right of chair 19 this takes you to about 2800 metres to a piste used for downhill ski racing. For those not up to Olympic downhill standard chairlift 18 has access to a good selection of reds pistes 62 and 63 are nice and varied for those wanting to challenge themselves.
As mentioned earlier we recommend checking out the surrounding areas to Sestriere. Sauze d'Oulx offers some great red and black  pistes that are exceptional on a powder day. The top of chairlift 11 allows you to get on piste 12 which is a top to bottom run. A great piste that give you a flavour of what Sauze d'Oulx has to offer. It's worth heading here for the après too as it really goes off at the mid station with live DJ's music and more.
Sansicario is also an intermediates paradise a good mixture of black and red runs offer some great carving on generally quieter slopes. For a challenge take piste 21 it starts off as a black but nothing too scary and turns into a red as you descend.  Perhaps it's the final t-bar back up to the gondola summit at Sestriere that puts the crowds off spending their time here, but if you do fancy a day here and are not a fan of drag lifts on departing chairlift 36 a 10 minute hike can get you back on the track to Sestriere. From here piste 82 mixes red and blue sections to arrive back at the gondola mid station. Given the views we highly recommend this little excursion.
Beginners
Intermediate riders will get the most out of Sestriere and the surrounding areas but that is not to say beginners will feel left out here. The best area to head too is Borgata 1840 metres. Here there are a few learner slopes with a variety of small travellators which transports beginners onto two quiet nursery slopes perfect to practise on. Once you are linking turns confidently this area offers a few further options.
A t-bar opposite the travellator leads to a longer and slightly steeper slope to step up to, our advice is to skip the tear save this and head up the longest travellator and turn right this leads to piste 87 a lovely long blue that will challenge beginners the best way. Chair 22 and 23 allow you to lap this piste with ease.
It's a great place for perfecting those turns and for doing a few final runs of the day for tired and experienced legs. Throw in deck chairs and a great bar to chill out in and you could not want for much more on a sun soaked Italian ski day. Just go careful on the après and make sure you catch the last lift back or a long walk awaits.
In terms of ski schools Sestriere has lots of options. There is scholarly ski Sestriere and the yes snowboard school both offer experienced instructors ready to get you started. On a side note, improving beginners could do worse than head to Sansicario where at the resort base chairlift 38 leads out onto perfectly pitched blue pistes 21 and 70. Getting here from the top of the gondola may prove challenging so a ski bus may be the wiser option.