Sestriere
Nestled at the centre of the wider Milky Way ski region Sestriere is an ideal place to base yourself if you are wanting to get some serious riding under your belt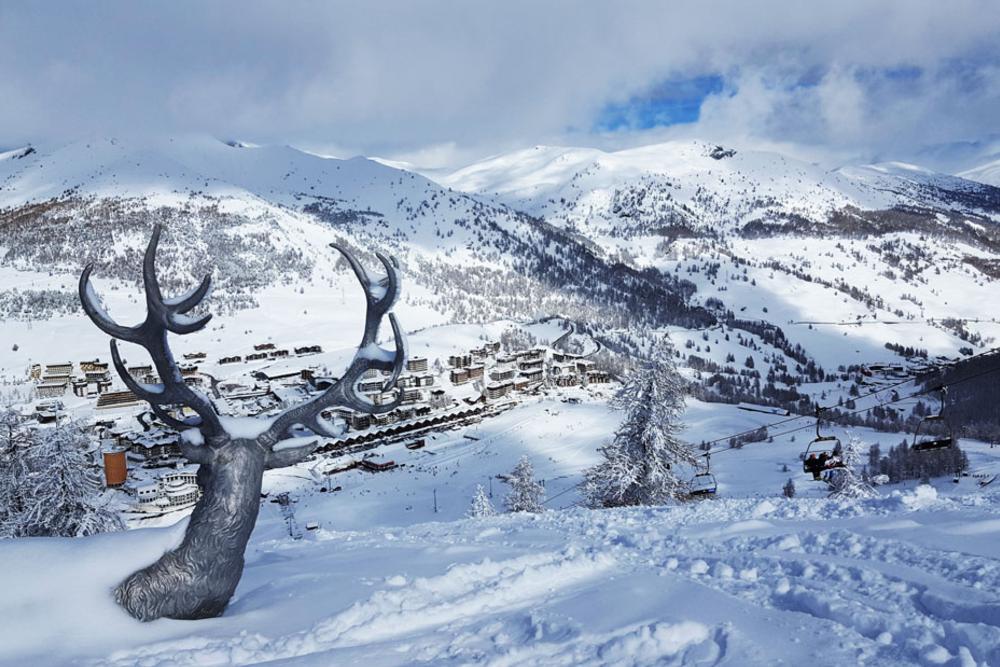 Deer Sestriere / Michael Whittaker
Town
Sestriere has a pretty laid back family feel there is no wild après here, but there are plenty of options for a long lunch on sun soaked slopes. Those after a change from sliding around can head to the Winter Park near the Olympic village where snowmobiles and husky rides are on offer. Even if you not feeling up to hurtling around with the huskies they are well worth a look beautiful animals in a beautiful landscape what's not to like.
Depending on where you stay you may or may not have spa access but if you need a break from the slopes you could do worse than spend an afternoon soothing your tired limbs in a local spa where you can pay per visit.  A little walk away from the Olympic village, we found the Erato spa. For around 10 euros for hotel guests or 30 euros for the public we got a full day's access to a pool, steam rooms, saunas, and chill out areas which was perfect for a whiteout day.
This was a pretty sweet place and well worth combining a few nice drinks by the fire post plunge. It's around a fifteen minute walk from the main gondola so make sure you check out the exact locations before heading out.
Food options
Sestriere has lots of dining option whether you are after a quick bite to eat at or something more substantial. Bar Sestriere has fast food and some great burgers for under 10 euros. Most of the local pizza places offer a good size pizza for under 10 euros. If you are going half board the hotels offer some fantastic food. We stayed at the Hotel Du Col and were spoilt for choice.
Last Tango is one of the most popular in town, this is a cosy dining room with an open fire. The small menu includes regional dishes, with plenty of lamb, pork, beef, pasta and gnocchi. You can also order fondue or raclette in advance.

If your after some Italian glamour  Vineria del Colle, Grand Hotel offers gourmet Italian and Piedmontese specialities, beautifully presented. Try the traditional bagna cauda dip for starter, and follow with venison stew. There's a huge variety of wines too.

Il Centro – Carnivores will love this place - it serves possibly the best steaks in town. There's also a large range of pizzas and, for dessert, you must try the chiacchere (like mini churros with chocolate sauce and whipped cream).

Dieci HP – A restaurant and pub with live music and a great atmosphere. The food is sophisticated and beautifully presented.
On the Mountain you can head to  Le Graal (bottom of Montgenèvre lifts) where you can reward your efforts with a huge burger, steak or schnitzel and then soak up some rays on the sun terrace while you let it go down.
Accommodation
Sestriere has plenty of accommodation options for various budgets by the main gondola you will find the Olympic village accommodation where you can find a mixture of self-catering rooms with kitchenettes or take a half board option.
Higher up you can find a mixture of hotels. One we recommend is the Hotel du Col with modern rooms and excellent half board option with free wine at dinner it is a good option for those who don't want the fuss of finding somewhere to eat every night.
As well as the food facilities it also had a quality pub in the basement that is a pretty lively every night. With live bands, quiz nights, talent nights and live sports it attracts a mixture of hotel guests, locals and other holidaymakers. For a hotel pub it's quite a gem.
Nightlife
Sestriere is not known for its crazy nightlife but it is not bad by any means. Beers are fairly reasonable coming in at around 5 euros a pop and spirits are all reasonably priced. For frosty days we recommend the bombardino, a classic Italian winter drink.
Whilst here we found a number of lively bars and checked out the local nightclub which is pretty big by most resort standards and certainly worth checking out Post pub.
By the main roundabout you will find bar Sestriere; it's a nice spot for lunch it's simple food and family friendly. 2 for 1 drinks run between 4-7 also offer a good spot to stop for some après drinks.
In terms of the bars, the hotel du col is always a pretty good place to start the evening with live sports and entertainment, quizzes and competitions. There is something going on most evenings and you always get a warm welcome. Crystal Ski Holidays also start a pub crawl from here, so if you go with them, this also gets you into the nightclub so a bonus if you are using this tour operator.
Location