Lotte Arai
Its good to be back, and some of Japan's best in-bounds freeriding!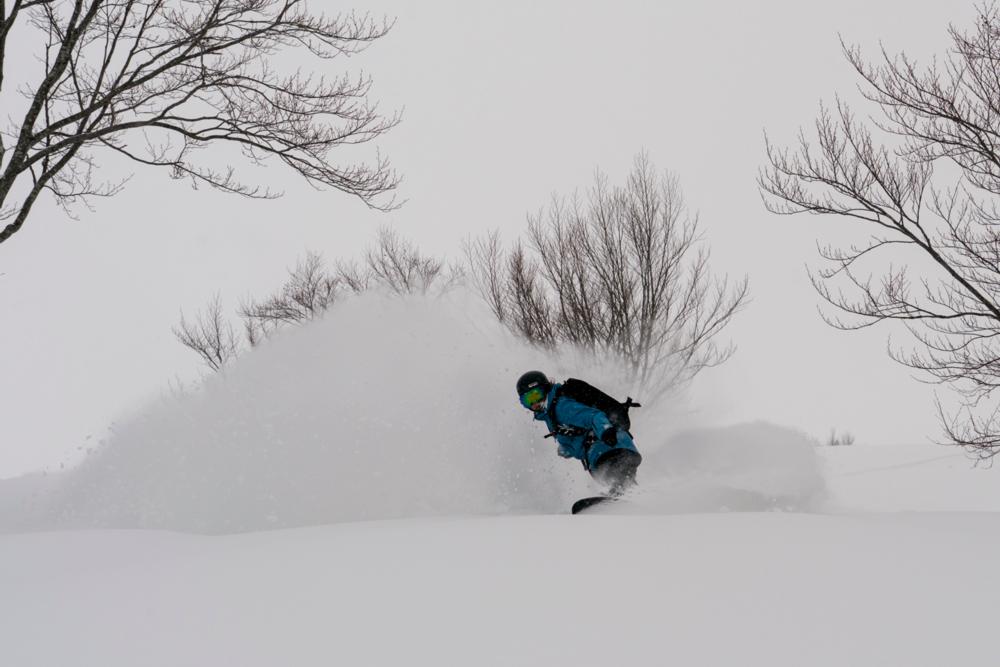 Lotte Arai, Rider Tia Tan / Photo: Keith Stubbs
Freeriding
In contrast to many Japanese resorts, Arai's approach to freeriding is super refreshing: they're actually pushing to get new terrain open. In fact, Arai is one of only three resorts in the whole of Japan to use explosives for avalanche control. Yes, that's right… just THREE!
Arai currently offers ten different avalanche controlled zones across the mountain, including the hikeable bowls above the top lift, providing droves of Japanese powder seekers with a substantial array of bowls, faces, gullies and glades in which to explore. There are also three clearly identified "strictly off-limits" zones, which all consist of much bigger hazards such as cliff lines, river holes and problematic terrain traps. One of these zones was being tested for opening at the time of writing this review, proving that the resort's intentions to expand their off-piste terrain are completely real.
The majority of the freeride terrain is accessible with one gondola ride and a chairlift. On a fresh snow day go get some quick laps under the Zendana lift in the Funaishi-sawa. This zone offers rolling intermediate and advanced terrain with widely-spaced trees and plenty of windlips to slash. At some point during the morning the peak hike above the top chairlift will open. Keep an eye on when this happens, as the ride from the top of Mt Okenashi is well worth the 15-20min slog up, but don't put in the boot pack unless you have legs of steel.
Whilst the higher terrain is fun and typically where the best snow is, the steepest terrain is actually found mid-mountain. Check out the avalanche controlled zones of Mamushi and Small Mamushi. These two areas offer steeper pitches and more tree-lined faces, which helps with visibility in the frequently low light. The negative of these zones is the lower lying elevation. Take note of any sudden fluctuations in freezing level before you visit and you'll be more confident when deciding to ride this terrain or not.
Terrain aside, Arai's coastal location and microclimate disposes it to bumper snow falls with surprising regularity. To put it in perspective, they received over 12 metres of snow in the months of December and January '17/18 alone. That's typically what most Japanese resorts get in a whole season and double that of most European resorts.

Freestyle
There's no permanent park in Lotte Arai, however there is talk of some form of springtime park. Arai does a lot of good kicker building spots and some natural terrain for you to get creative with. Look out for accessible ridge lines with drop opportunities, but be cautious of south-facing aspects and don't cut ropes to get to them. With Arai taking such a positive approach to their off-piste terrain, it would be a real shame for this to change due to a few ignorant riders thinking they know better.
Pistes
With only 11 groomed trails, Arai isn't aimed at those riders looking to stick to the pistes. That being said, what they do have is quite diverse and very enjoyable. The runs accessible from the Sanroku 2nd chairlift are suitable for varying levels of intermediate and advanced snowboarders, with rolling terrain and varying widths as you descend. The trails called Be Free and Encore offer a bit more of a challenge with slightly more pitch, but are still very achievable for most riders.
One trail to avoid completely if possible is the Rindou Lower - a green cat track leading back to the resort base - unless you really enjoy cross-country snowboarding.

Beginners
Absolute first-timers will be content here with good learning terrain, a magic carpet and an English-speaking snowboard school providing lessons. There's enough to keep a first-time snowboarder entertained for a day or two however the next step up is a bit of a jump terrain-wise. If you're a novice rider with a few days of experience, test out your skills on the Ukairo trail but be wary as it's a wee bit steep on the joining trail used to access it.