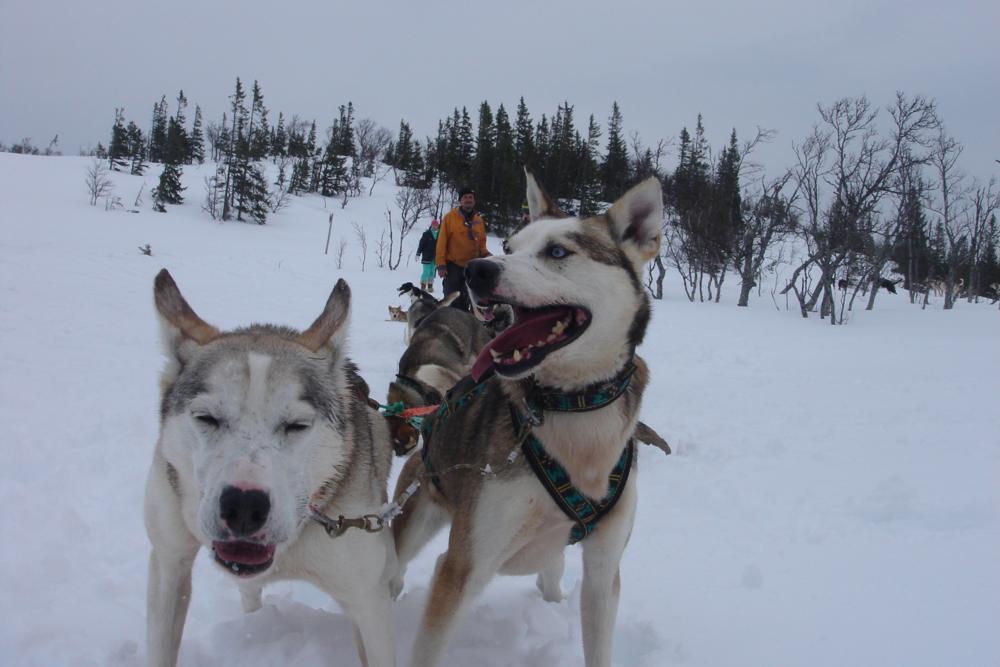 are dogs /
Freeriding
Freeriders have a lot on offer here from steep powder faces to tight tree runs. From the top of the lifts it's possible to be dragged behind a piste basher to the top of Åre's Areskuten 1400m, which allows you to descend anyway you want, some routes will need you to get a skidoo to pick you up which you'll have to organize before you drop in.
From the top of chair 28 turn left and traverse for about 300 meters then you can drop down a big face before heading right into a huge gully, which funnels down to the top of the funicular. Also from the top lift you can head towards the 27 t-bar. As you start to descend cut right and stay high, this opens up into a huge wide face which you can ride down to the t-bar 25. If you're looking for trees then the Tegefjall area has plenty of options as does the runs down towards t-bars 38 and 39. Skogis piste is a good introduction to shredding trees, but only with new snow. On the right half way down the Tegesvangen piste is an entrance to the old and unmarked boardcross run which will get even the pros going when taken at speed. There's also the chance if you have the cash to go Heliboarding.
Freestyle
Freestylers have a beginners funpark known as The Dream Park, which is under the Duveds Linbana. There's also a big pro park which has two lanes easy and expert, next to the Brackeliften. Both lanes come loaded with a number of big hits to gain maximum air. There also a big pipe located in the park. The pipe has 3 meter plus walls and is regularly used to host international competitions that attract the worlds top pros. If the parks not your thing then there's some big rock drops and loads of cornices to fly off, all of which are up high above the tree line.
Pistes
Riders who stick to the piste will find the well groomed pistes ideal for licking it down at full speed, the long red run, from the top of the Kabinbanan cable car that eventually takes you home via some wood, is perfect for this. The pistes while short in the Tegefjall and Salen area are often empty when the main Åre pistes are busy. Also after a strong wind the Tavravalet area sometimes benefits as the snows dumped onto its sheltered pistes.
Beginners
Beginners should not feel left out here, there are plenty of easy slopes which run from the top lift to the base area. The of runs on the Duvedsomradet area are cool with varying terrain features once you've got your turns going. For complete beginners the Rodkullen area is good, but you'll have to get a bus there and back.