Murren
Don't be fooled by the super sedate village, this is the major freeriding destination in the Jungfrau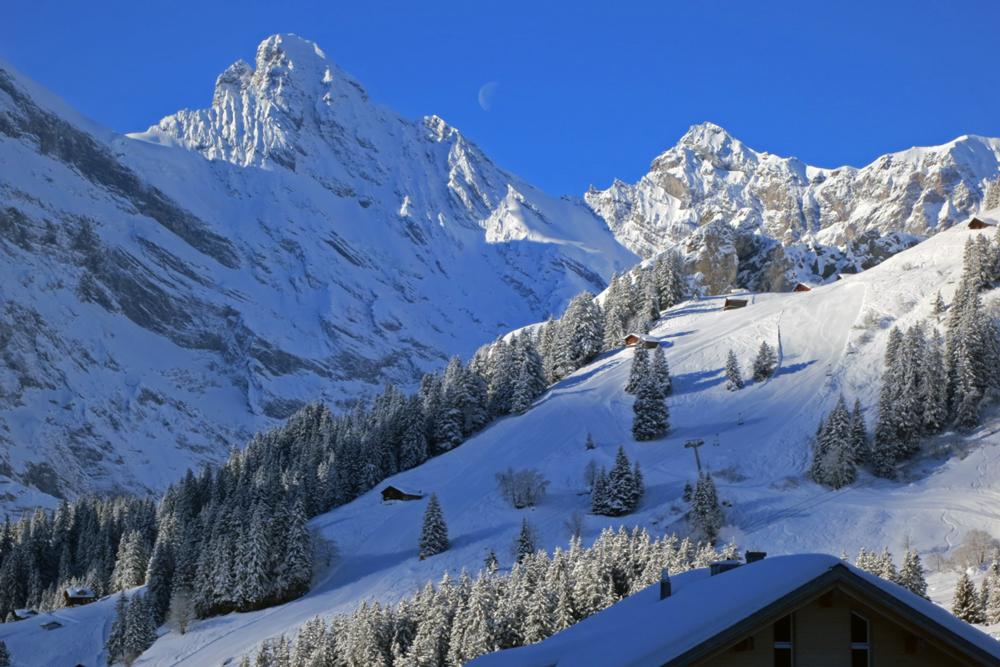 Mürren towards the Breithorn peak / Photo: Steve, WSG
Freeriding
You really will need to hire a guide to show you some of the incredible descents available, however there is still quite a lot easily accessible on your own.
From the top of the Schilthorn is an established descent, that you get to from walking underneath the main viewing platform, it's really pretty mellow, but plenty of pow can usually be found on the way, and eventually comes out back onto the pistes above the Blumental. A trickier descent, and a lot more dangerous given the hidden rocks and cliffs, starts from the bottom of the lifts above the Blumental into this great open area, once you've descended into the Blumental, then its all plain sailing.
If you fancy a hike you can enter into the side of the Blumental from either the top of the Schilgrat lift and traverse along the ridge-line, or take the easier cat-track round the side and then an easier hike into the entrance.
Freestyle
There is a tiny, poorly maintained excuse of the terrain park located near the bottom of the Schilthorn lift, but blink and you'll miss it. If you're into freestyle then head over to Grindelwald where you'll find a park well worth the trek.
Pistes
The 50km or so of slopes are reasonable, but you'll find quite a few flat areas intermingled with some short steep sections which will cause beginners a few scares, but by and large there is very little here which will test any serious riders and even the black runs are pretty straightforward