Murren
Don't be fooled by the super sedate village, this is the major freeriding destination in the Jungfrau
Summary
Freeride - 80%
Some excellent areas to discover
Freestyle - 35%
The park is a joke
Pistes - 55%
Okay but not extensive
Beginners - 60%
Shame about the lift run offs
Value - 65%
Not too bad for Switzerland

Lift count : 4 x Cable-cars 6 x Chairlifts 1 x Drag-lifts Other lifts 2 trams
53km OF PISTES ( PISTES)

Pass (Low/High Season) : 0 Season pass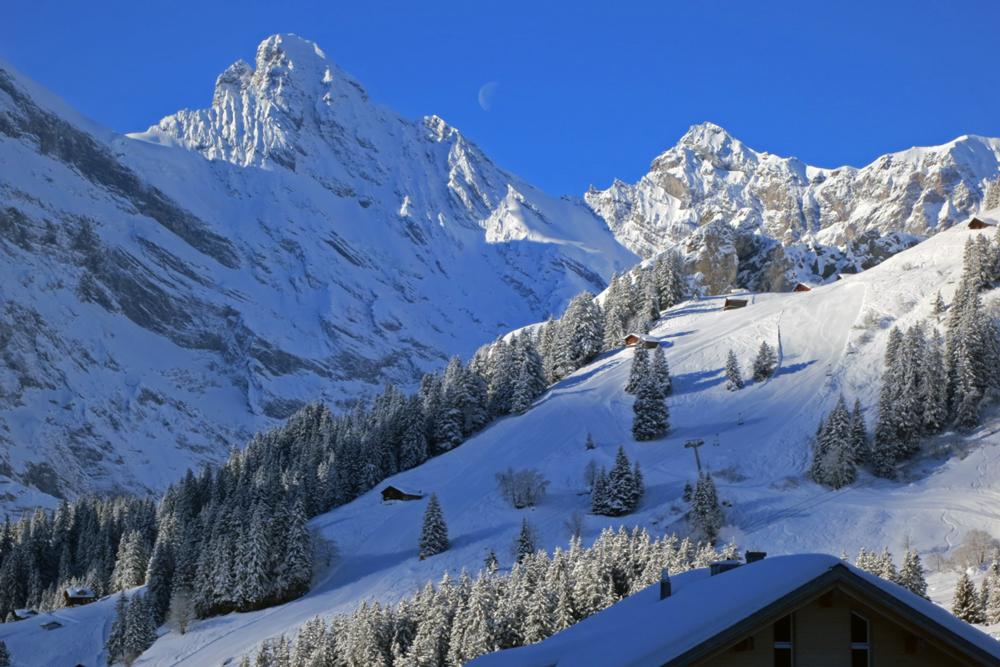 Mürren towards the Breithorn peak / Photo: Steve, WSG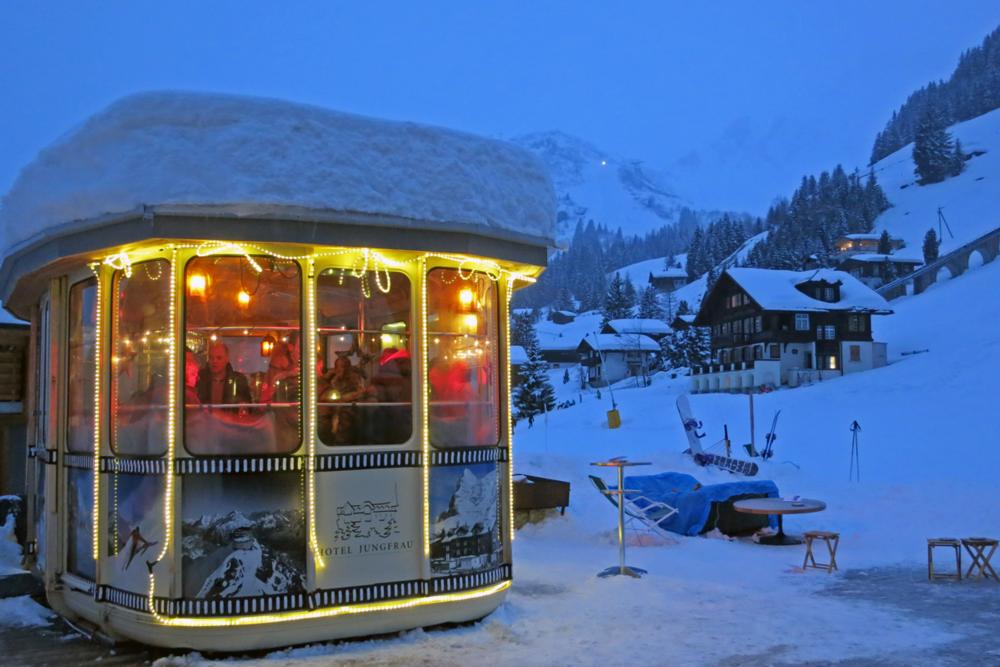 Mürren gondel bar / Photo: Steve, WSG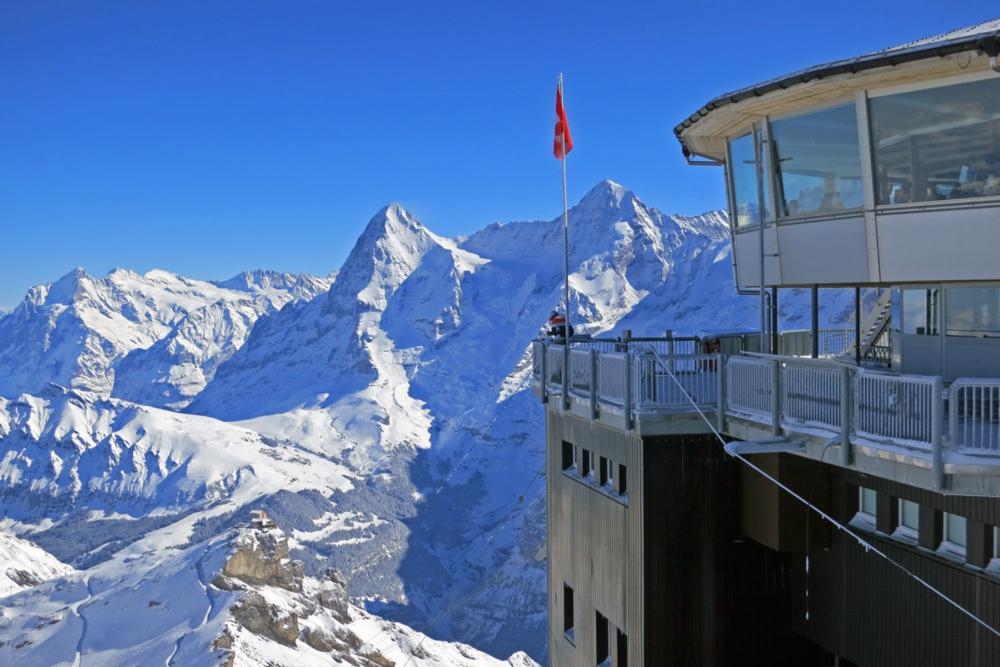 Mürren from the top of the Schiltorn towards Jungfrau / Photo: Steve, WSG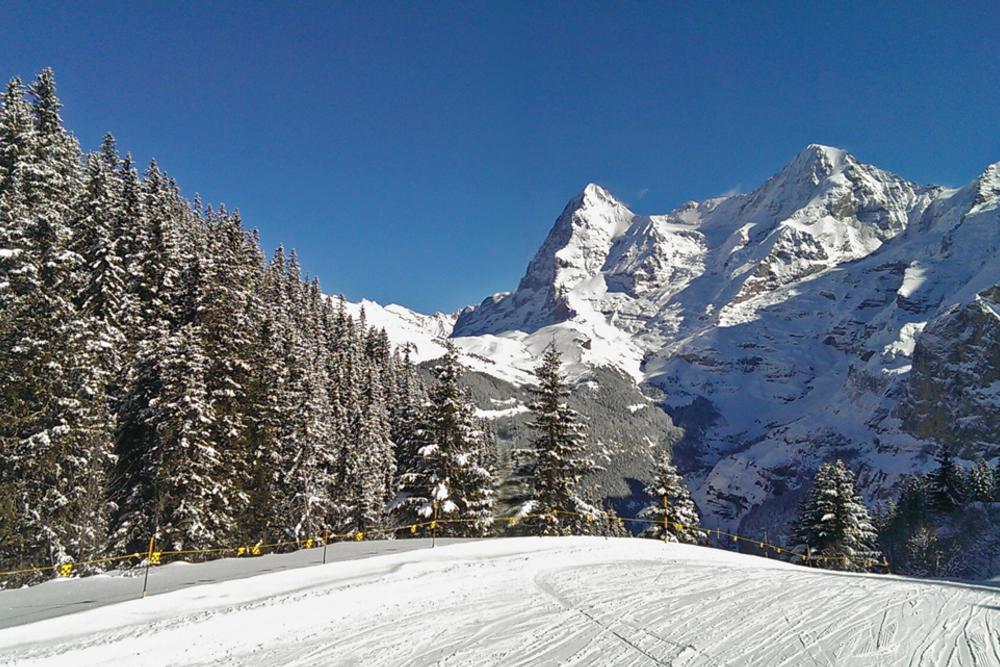 Mürren piste 5 towards the Eiger / Photo: Steve, WSG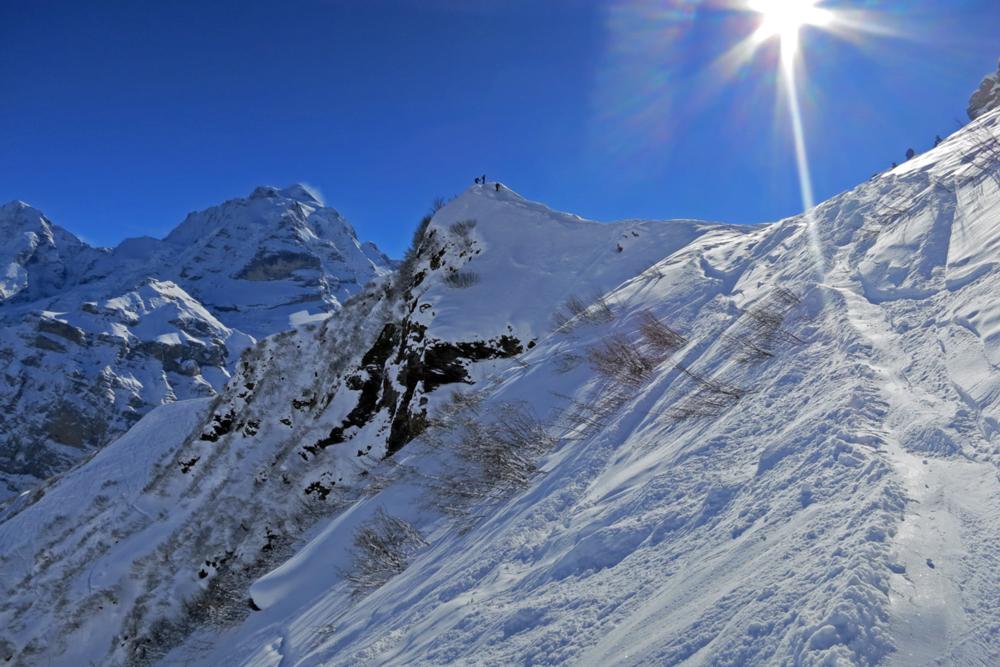 Mürren hike from the Schiltgrat to the Blumental bowl / Photo: Steve, WSG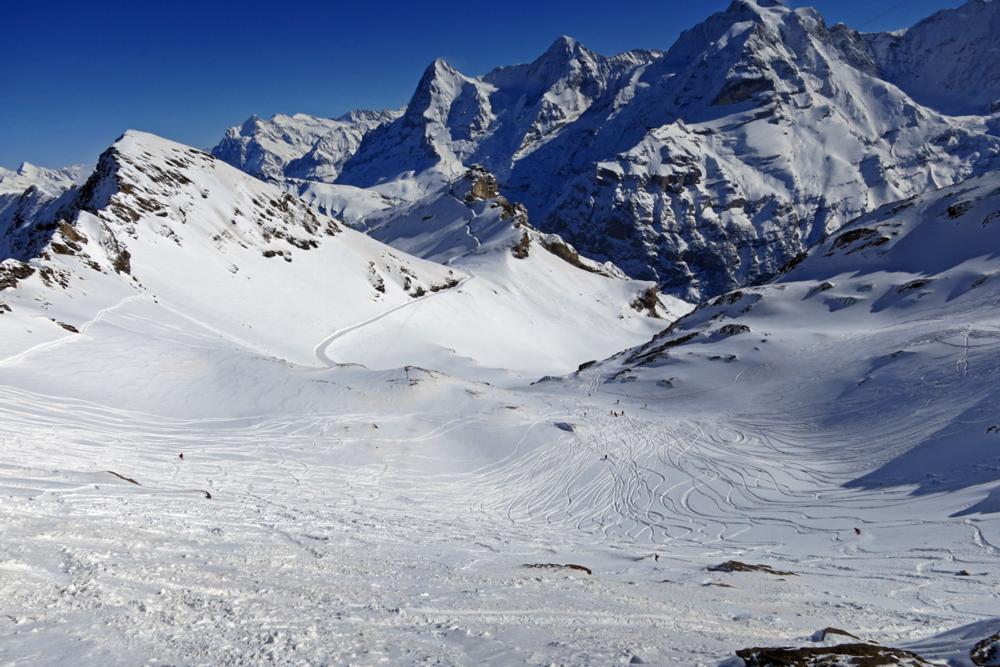 Mürren freeriding from the top of the Schiltorn / Photo: Steve, WSG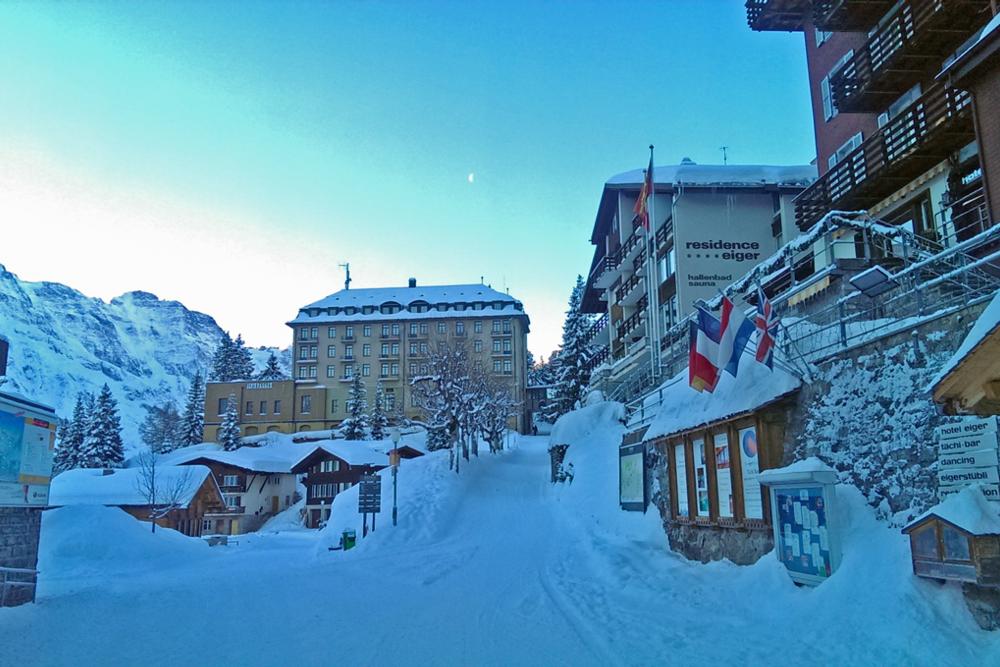 Mürren village toward hotel Regina / Photo: Steve, WSG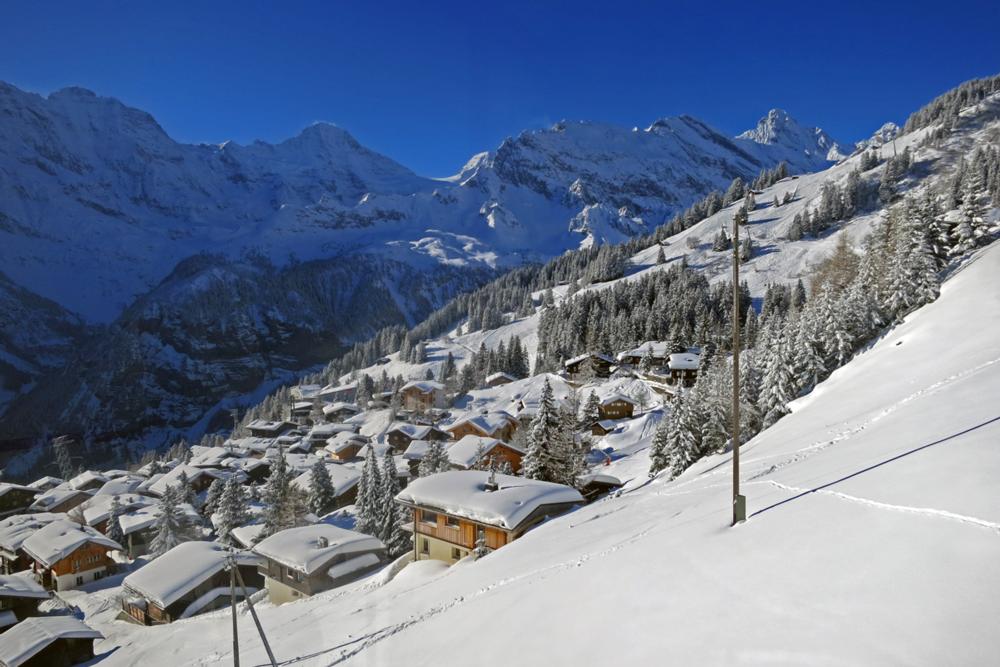 Mürren village / Photo: Steve, WSG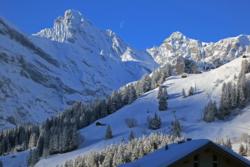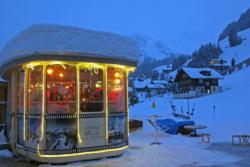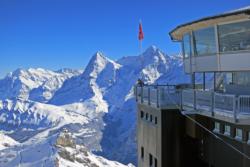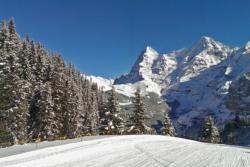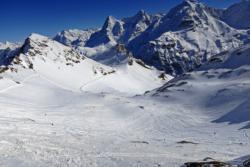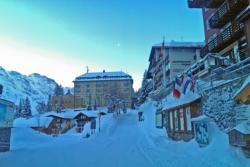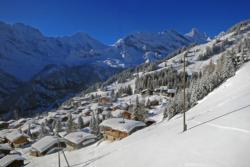 Introduction
It's always the quiet ones that you need to watch out for, and in the Jungfrau family its Mürren that belies it's ghost town nightlife, and has some of the most extreme terrain not just in the region, but Switzerland itself.
Mürren is located in a dramatic landscape, perched on the top of a sheer 700m cliff that overlooks the village of Lauterbrunnen. Any self respecting base-jumper has this place at the top of their list, and so far it's claimed the lives of over 30 people trying to tame it.
The village is car-free, so you'll need to take one of the two cable-cars that access each end of it. At the end of the day, as the crowds head off, the village has a yawn and quickly settles down for the night. This is one place to avoid if you want to spend the night drinking; instead you'll be hitting the pillow early, and trying to make first lifts to maximise the time you have exploring this incredible terrain.
Any James Bond fans will immediately recognise Blofeld's hideout from On Her Majesty's Secret Service, at top of the Schilthorn peak, at 2970m the highest point of the resort. Grab a photo next to George Lazenby, and then follow in Bonds footsteps and take the off-piste route back down.
Whilst the pisted terrain here won't be enough to satisfy you for a week, combined with the other areas in the Jungfrau, there's plenty of stuff here to keep you occupied for a whole season nevermind a week. It is a bit of a pain to get to Wengen, and even further to get to Grindelwald, so although its all linked via funnicular's and cable-cars, you'll be spending a good hour getting between villages, but you certainly won't mind looking out of the window at the amazing terrain.
Piste map