Murren
Don't be fooled by the super sedate village, this is the major freeriding destination in the Jungfrau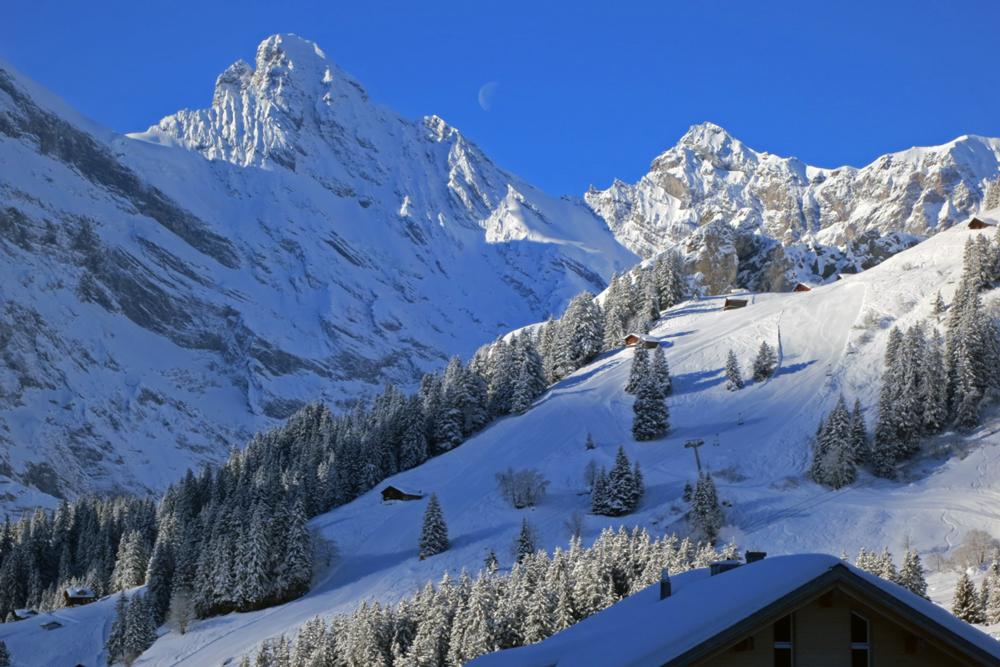 Mürren towards the Breithorn peak / Photo: Steve, WSG
Town
The village is picturesque and car free, and very compact, so its easy enough to walk around, and everything lies either on or just off the main thoroughfare that joins the cable-car and funnicular train at either end of the village.
Food options
There are a good number of restaurants many with great outdoor terraces, which are an absolute must on a sunny day, although the all seem to serve pretty standard faire. The Eiger guesthouse serves good pizzas, and the unassuming Tham Kok Keong on the high street, does surprisingly good Chinese at a reasonable price.
Accommodation
As you would expect in Switzerland, there are plenty of expensive hotels and guesthouses in the village, and the tricky things is trying to find something on a budget. The Eiger guesthouse is one such option, and has a small bar and restaurant downstairs. It is right opposite the funicular, so dead easy to find, but not to be confused with the impressive hotel Eiger.
Nightlife
Things are far from crazy, but it's still possible to have some fun in the village. First stop at the end of the day should be the cosy Gondel Bar, an old cabin at the bottom of the nursery slopes, not far from the Allmendhube funicular. Squeeze yourself in, help yourself to the free bar snacks, and warm yourself up on the heaters.
If you're under 21, the Blumen Keller opposite the Co Op, is easily the best place to head and it's Open til 2am. For the rest of us the Eiger Hotel Bar is the only other place open really late. It has a small dance floor populated by posh kids and their parents. Next door the Eiger Guesthouse Bar hosts bands at weekends, and they'll stick on English sport if you ask them nicely.
Location