Saas Fee
Sass-Fee is a great summer snowboard destination, but because of it's extremely high altitude it can be sketchy in winter. Local services are great with a really good vibe in the town.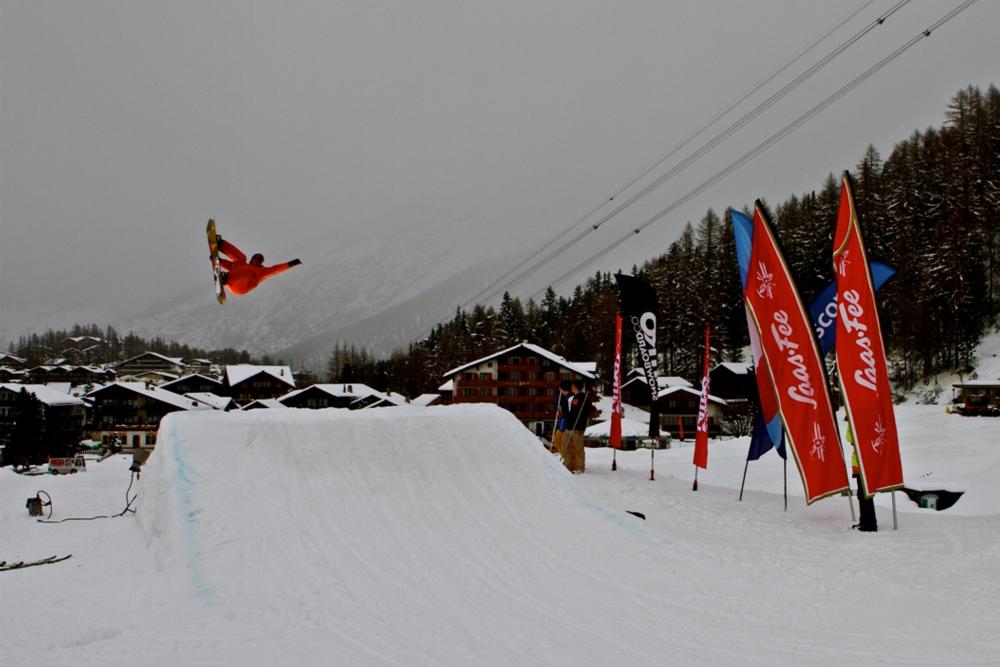 Saas Fee Snowboarder / fotografie-pascal.ch / Photopress Saas-Fee
Town
Saas Fee is a car-free place where you get around by either electric vehicles or on foot. However, everything is located close to each other and the slopes. The town is a cool place, with options to sleep close to the slopes in hotels or chalets. Money wise, Saas-Fee can be very expensive if you're staying in a hotel and eating out in restaurants, but on the other hand, you can do things cheaply by staying in an apartment and feasting on supermarket produce. The resort crams in loads of amenities, from swimming pools, a cinema, a museum, an ice rink to heaps of shops, including a couple of cool snowboard shops centrally located; Popcorn ++41 (0) 958 19 14 and Powder Tools ++41 (0) 89 220 7792.
Food options
Being a modern and popular resort, Saas Fee is well equipped to feed all its visitors no matter what their chosen diet is. There are well over 50 restaurants here many based in hotels but also a good number of independent ones. Notable places to pig out in are the Boccalino for pizza or the Lavern for traditional Swiss food. Hotel Allalin is a good restaurant with affordable meals set in a rustic style.
Accommodation
Accommodation: 7500 visitors can be housed here. Hotels come as one would expect, standard Swiss and expensive. However, with this place comes a good number of affordable bed and breakfast places apartment and chalets for those wanting to go self catering. Whereever you stay, nothing is too far from the slopes.
Nightlife
Night life is very good here despite there being a few places offering the ski apres crap. Snowboard life-style centres around the Popcorn bar and snowboard shop, but the Happy bar is cheaper (especially at happy hour 7:30 - 8:30 daily). There are a few other bars worth checking out. If you decide to stay in and party, watch out for the 'hush police' - too much noise after 10pm and you'll get fined around 120 Sfr.
Location