Breckenridge
Despite being an expensive location, this is a super good resort with great snowboard terrain, and excellent local services. If you want to ride an amazing park with something for every one and which is groomed and maintained daily, this is the place to come.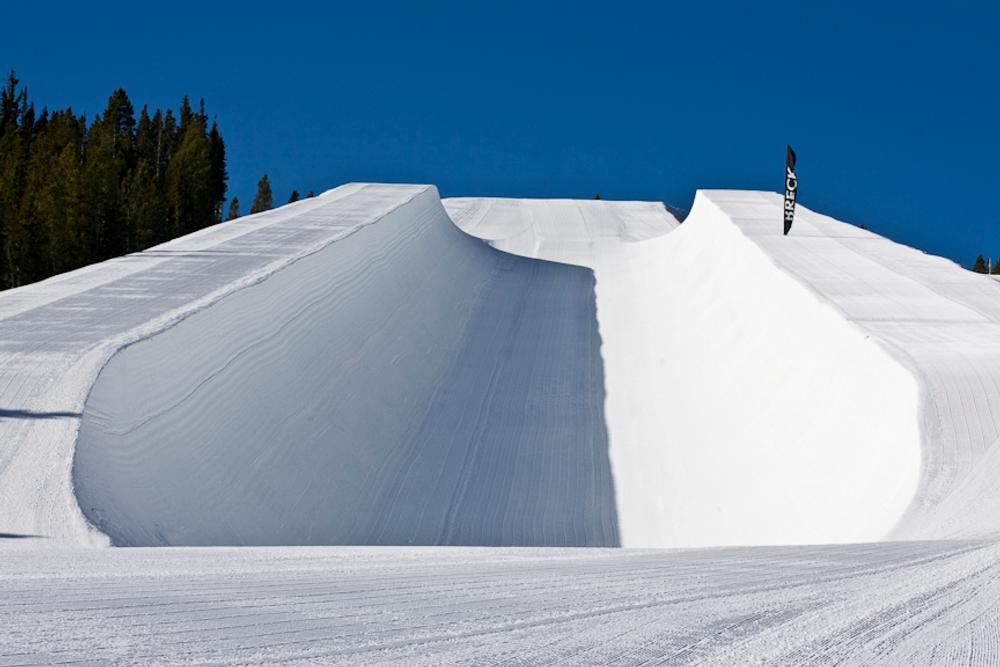 Breckenridge 22ft superpipe / Photo: Aaron Dodds/ Breckenridge Ski Resort
Freeriding
Freeriders with their powder-searching heads, will not have to hunt for long when they see what's available in the Back Bowls off Peak 8 and off Peak 9's North Face. Here you'll find plenty of terrain for riders who know how to snowboard. At the top of Chair 6, you'll find loads of good hits and drop offs, while lower down there are some wicked tree runs. You'll find good powder here, even after everywhere else has been tracked out. The Imperial Bowl on Peak 8 has over 1,000 metres of vert to tackle and now with the new Imperial lift there's no need to hike as it runs almost all the way to the summit, unless you really want those extra few metres above the lift, its now only a ten minute hike.   Peak 10 offers some great, what feels like off piste terrain off of its south side, as well as some great tree runs which often stay untouched.
Freestyle
Freestylers should be completely at home here with a variety of natural and man made features.  This mountain really does give something for everyone with two mini parks and pipes, a small to medium park (Park Lane), new for 08, where you can hit six jumps and four rails/boxes in one run and of course the expert park (Freeway) with jumps ranging from 35 feet up to 70 feet, as well as the super pipe, cut by Zoug the Pipe Dragon.
There is also a medium pipe on Peak 9 which is perfect for learning those tricks without feeling like you are about to send it into orbit everytime you approach the wall, as is often the case with Freeway's super pipe.  The Lechman trail is known for being one of the best natural freestyle runs on the mountain, with loads of hits formed from big wind-lips running down the sides of certain sections.  Breckenridge is renowned for their constant development and progression with their parks and is always one of the first mountains in the States to have a substantial park up and running by mid november. 
A good testament to this is Shaun White having bought a house here last winter.  Everything is perfectly set up, safe and well thought out, and groomed and looked after by a dedicated park crew on a daily basis.
Pistes
Riders have a mountain here that will allow for some very fast and challenging riding on well groomed alpine trails. Speed-freaks should try out the Centennial trail, which is a long flat and perfect for cranking out some big turns. Intermediates will find the runs off Peak 10 the place to be, in particular the Crystal.  With everything being groomed on a daily basis, the earlier you get out the, the sweeter that corduroy shred will be.
Beginners
Beginners have plenty of easy runs, many of which can be found on Peaks 8 and 9. The fact that novice trails like Silverthorne are wide enough for all newcomers helps to make this a great beginners' resort, especially around the Quicksilver lift on Peak 9.  On Peak 8, 7 chair is a great place to start.