Breckenridge
Despite being an expensive location, this is a super good resort with great snowboard terrain, and excellent local services. If you want to ride an amazing park with something for every one and which is groomed and maintained daily, this is the place to come.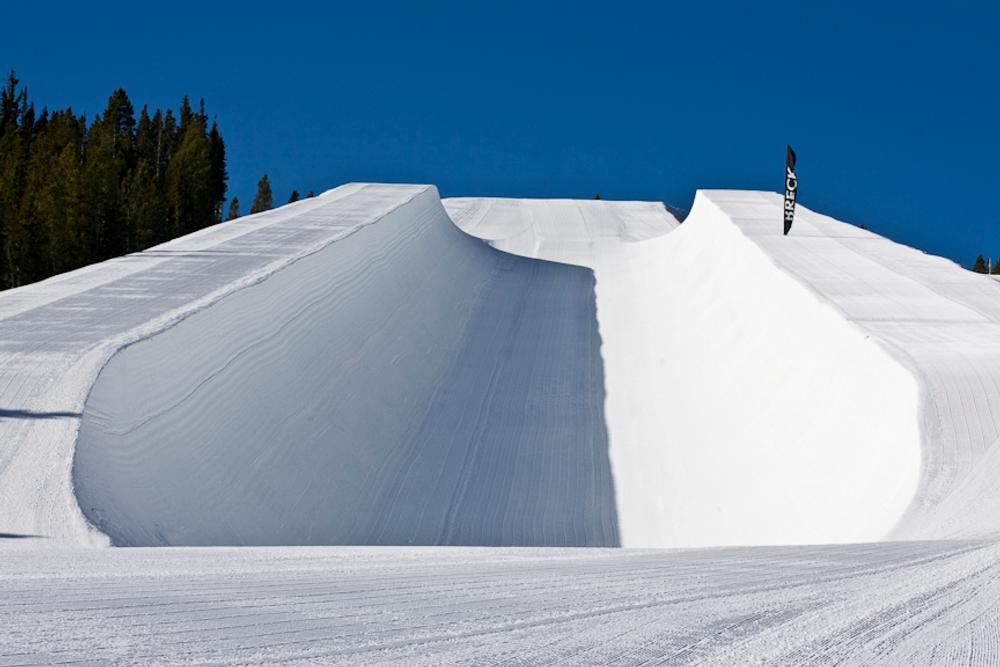 Breckenridge 22ft superpipe / Photo: Aaron Dodds/ Breckenridge Ski Resort
Town
As with many of Colorado's resorts, Breckenridge can be uncomfortably expensive. However, for riders on a tight budget, providing you shop around for accommodation and other local services, you will be able to stay here for a reasonable price. There are also really good happy hours at a lot of the bars, which can be a really cheap way of getting a pretty decent meal and drinks to of course. 
The town is spread out, and has a rustic wild west feel about it with quite a few old fashioned, classic wood buildings. You can spend until you drop here with a staggering 225 plus shops, including a number of good outlets for snowboard hire with the option to rent demo boards and step-in set ups.
For some of the latest and freshest, new snowboard gear, check out the Big Hit and the Underground snowboard shops.  Other attractions include a new 5 million dollar ice ring and a cool area for skateboarders to do their thing.  The town has an amazing recreational centre, complete with a pool, tennise courts, racket ball courts, climbing wall and state of the art gym, easily accessed via the free Yellow bus route.
Food options
Around town you will find a massive selection of good restaurants and fast food joints ranging from cheap to steep with over 100 places to choose from. Breakfast is dished up in numerious places. The Prospect does a nice sunny side up as does the Mountain Lodge Cafe . Veggies should head to Noodle & Bean for the very same, while meat lovers may want to try a grill at 'Breckenridge Cattle Co' which is also noted for its fish food.
Accommodation
Accommodation options are vast with some 23,000 visitor beds up for grabs. Those on a tight budget will manage to find a cheap B&B, while those wanting some luxury will be able to chill out in a lodge or classy hotel. Breckenridge Mountain Lodge is an okay and affordable place. The Great Divide Lodge is an expensive alternative.
Nightlife
Night-life is pretty good and rocks until late (2am). There's plenty of beer, dancing and fine local talent to check out, including four main nightclubs and some 80 food bars.  Check out Cecilia's for dancing and Sherpa and Yeti's for some awesome live shows and bands.  Eric's is another cool hangout and is a typical American sports bar/restaurant and has all the latest and biggest sporting events on hordes of tv's.  The Liquid lounge, Burke and Rileys Irish Pub, the Breck Brewery and Salt Creek are some more good bar/restaurants to go to.  For a little taste of Japan check out Denzaemon Noodle and Soup Bowl.
Location