Mount Hood Meadows
Full-on freerider's resort offering great, open and tree-lined terrain with crowd-free slopes suited to novices. Good but very basic local services.
Summary
Freeride - 75%
A few tree runs & good off-piste
Freestyle - 76%
Terrain parks & halfpipe
Pistes - 75%
good mix, but short advanced runs
Beginners - 75%
Easy slopes and good school
Value - 70%
Some value options available

Lift count : 10 x Chairlifts
2150acres OF PISTES (87 PISTES)

Pass (Low/High Season) : 54.00-69.00 Day , 900 Season pass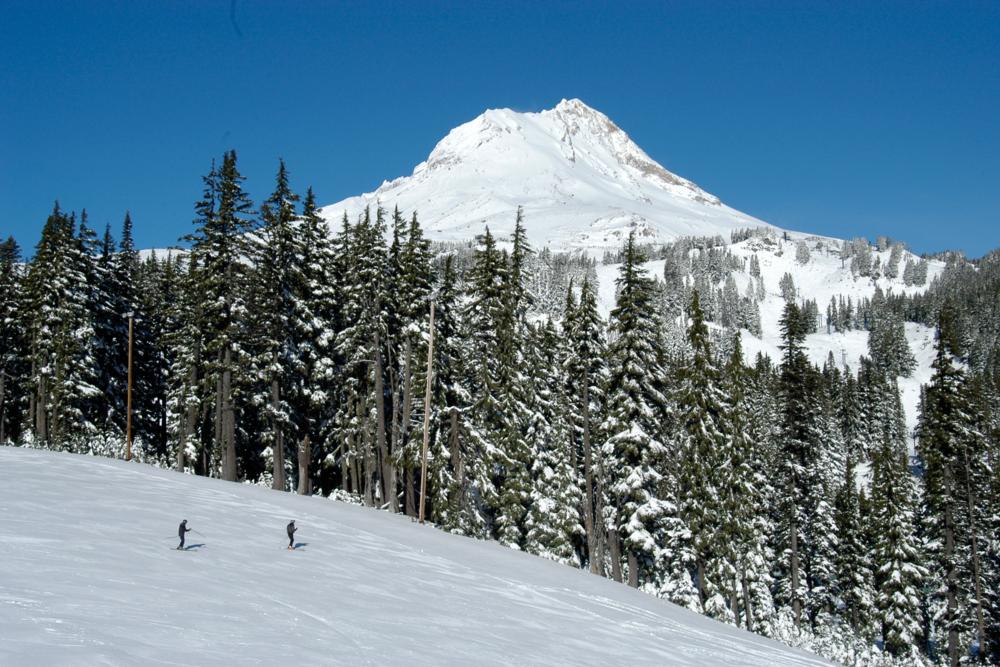 Mt Hood Meadows / Photo: Michael Hildreth
Introduction
There are three main resorts on Mt Hood, a dormant (not extinct!) volcano: Mt Hood Meadows, Ski Bowl and Timberline. Although small, Meadows is the most popular and has a huge range of interesting riding crammed into its space and, joy of joys, virtually no traversing anywhere. It maybe tempting fate, but it is hard to get lost on Hood. You can spend a whole day taking different lines, but know that you are not too far from where you started. This is a very mixed ability mountain, with some nice basic novice terrain to pockets of testing trails for the more advanced rider, but in truth this not the most testing place, Steep descents will only be found in very short doses, like on Waterfall or around the back of Nightmare Knoll (a 40+ft cliff). The locals have their own names for most of the stuff they ride and are more than happy to show you their favourite little stash(!). The lifties are cool too, and a large proportion ride. If you can't afford the daily rates, the mountain is open for night-riding until March, although not extensively: take advantage of the special offers at Safeway's Supermarkets ($8.50 for Sunday 4pm-10pm) and you can't complain. Meadows is a popular destination for summer riding, with Tim Windell's High Cascade and Mt Hood Snowboard Camp, but you have to be enrolled on a camp to use their facilities.
Piste map