Freeriding, terrain parks and pistes
in Tignes
Freeriding
Freeriders have loads of choice. There are some really long off-piste runs, some great reds and blacks and the wide Grande Motte Glacier. If you are lucky with the snow there's the 1200 meter decent from Aiguille Percee to Tignes Les Brevieres on a choice of runs, with help you can find a very long off-piste route. To the sides of Les Lanches you can find good little rock shoots and bowls.
Tignes is set in a wide, open valley so you can see all the lines you'd love to take, it's just working out how to get to them. From the Toviere area there's some great spots of snow between the runs and two long blues into Val Claret. The Funiculaire and cablecar take you to the Glacier at 3456 meters for more or less guaranteed good snow.
From the top, a choice of Reds and off-piste routes await you, but watch out for crevasses.
Always a good side trip is the Vallee Perdue in the Val D'Isere valley, just make sure you have an Espace killy lift pass and you make the last lift home.
Take it easy in Tignes, especially after a fresh dump, as it doesn't take much to trigger avalanches and it's no fun stuck in an upside-down world of blue light.
If you want to go off-piste take a guide, eg. Snocool offer freeride and freestyle lessons. If you've got the cash and a group of four, they'll drop you and a guide out of a helicopter in Italy, 2 drops cost around 200 euros. 
Freestylers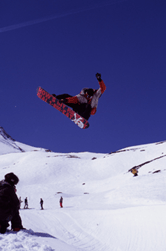 Freestylers will love the newly moved funpark, which has two pipes, some rails, a boardercross, and a number of hits ranging from spines to kickers and of course the grosse table pro, a big mother of a tabletop.
Theres always a bit of French hiphop blasting from the bottom of the pipe, and when the locals are there it really goes off. Tignes has a very high standard of freestyle boarders, even the purest freerider will be impressed, but dont be put off - just get down there, check out the small hits and move on up in size as your confidence improves. Dont go to the park and wipe out on a huge kicker as this'll probably chop up the hit at the same time as putting an end to your holiday. If youve never jumped before, build a small hit somewhere soft before hitting the park, or find a natural hit and session it.
Remember: no silly hats ever, they just arent funny. 
The new park is next to the Les Lanches chair lift and walkable from Val Claret.  
Pistes
PISTES. Riders of all abilities are provided with slopes of all widths and pitch. The Grande Motte Glacier although sometimes windswept and cold, is normally pisted flat. Its great for cranking it over at full speed and its long enough to give even the hardest boarder leg burn.

Beginners
Beginners have plenty of blue runs and loads of schools to choose from. Although not as good for the complete novice as Val DIsere, for someone on week 2 or 3, its fine and you can always head out of the valley to ride the runs under the Marmottes chair.
Kebra Surfing in Le Lac, which is Tigne's oldest snowboard shop and school, and Surf Feeling in Val Claret offer a number of teaching programmes for freestyle or freeriding. Its around 150 euros for a weeks' lesson.

READ NEXT: Village life, accommodation & nightlife
Resort Information
Advertisement