Flumserberg
The closest decent sized resort from Zurich and so can get pretty rammed at weekends, but it has enough here to keep you happy for a few visits
Summary
Freeride - 60%
Trees & some good off-Piste
Freestyle - 50%
2 terrain Parks
Pistes - 60%
Well groomed, good variety

Lift count : 4 x Cable-cars 7 x Chairlifts 5 x Drag-lifts Other lifts 2 magic carpets
65km pistes OF PISTES (16 PISTES)

Pass (Low/High Season) : 47.00-47.00 Half-day , 59.00-59.00 Day , 243.00-243.00 6-day , 243.00-243.00 6-day linked area , 845 Season pass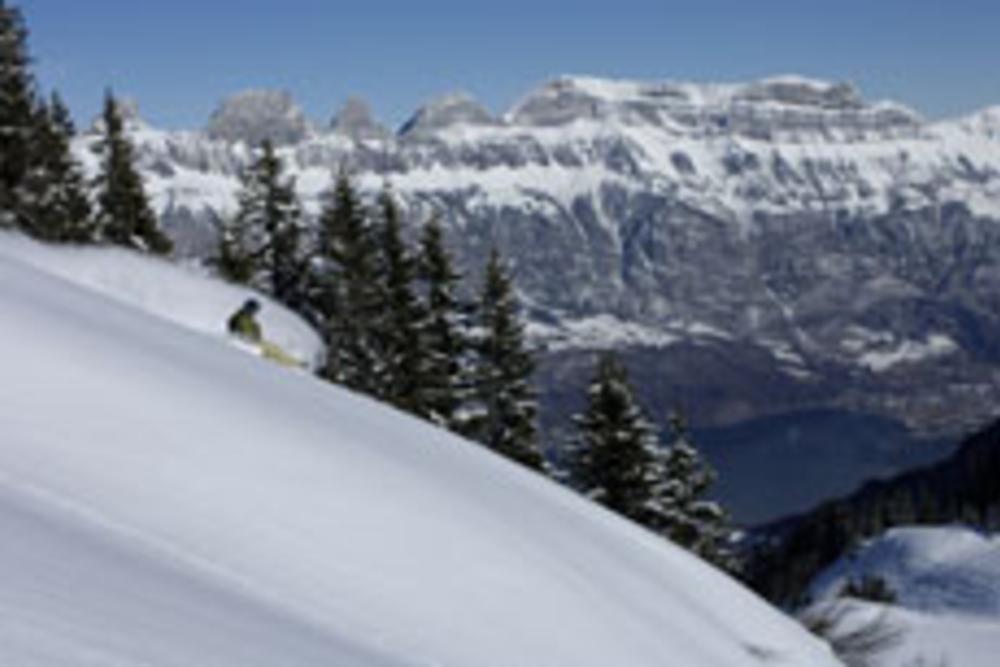 Fluserberg / Photo: Daniel-Kalberer
Introduction
Flumserberg is one of the closest resorts to Zurich and offers a little bit of everything and a lot of people if you head there at the weekend.
The resort offers stunning views of Lake Walen and the Churfirsten mountain range, and close to the border of Lichtenstein and Austria.
The 65km of pistes cater mainly for the intermediate rider but there are a few testing black runs to keep you thinking.
There are really two areas to Flumserberg; Tannenheim and Tannenboden. Tannenheim is all red runs and also the location of their two terrain parks. Tannenboden is the much more interesting and varied area.
The area gets a good regular dose of snow and despite its height has a long season which lasts from mid-November to mid-April.
There are 2 terrain parks and night-boarding on one 2km slope every Friday. Planning approval has been given to extend the resort from the Leist to around to the Fursch area, this will involve building 3 new lifts.
In just 90 minutes you can get on a train from Zurich airport and arrive in Unterterzen at the foot of the gondola, and at the weekends they even run direct trains there. It's not the place you'll want to spend too long at but it's certainly worth a visit.