Village life, accommodation and nightlife
in Serre Chevalier
Hotel search
Resort life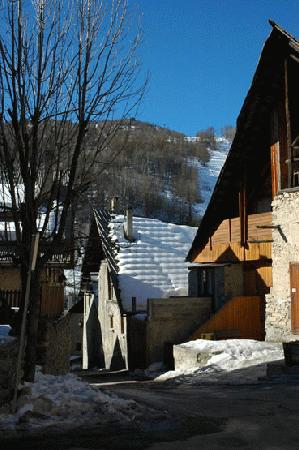 Serre Chevalier
provides a number of options for lodging and other local services. These are situated along a stretched-out valley road, set back from the base lifts.
Briancon
is the largest place to stay, but is not so convenient for the main slopes and is the first area to suffer in poor conditions. Chantemerle and Villeneuve (a few miles apart, linked on the slopes and by road), offer the best facilities nearer the slopes, and Le Monetier Les Bains is a beautiful old village albeit dead in the evenings.
Eating
Your dietary needs are well sorted here, with a vast selection of restaurants and fast-food outlets to choose from, including a number of creperies. In Chantemerle, Le Petit Chalet serves top food at a top price, or there's a few cafes that serve good value pizzas.
The Grotte Du Yeti in Villeneuve will serve you French delicacies like egg & chips, Le Bidule is highly recommened for fish lovers, and Nocthambule and Le Refuge are pretty decent.

Nightlife
Nightlife is not exactly kicking, although things do pick up later on in the evening. In Chantemerle the x-treme bar is the place to head for (but not until after 10pm), and the Karaoke clubs stays open 'til the early hours. The Irish bar in the mall is good for an après beer, Kitzbuel Café only good for a pizza, and in the old town there is a cool lounge bar.
In Villeneuve, most people head to the Grotte Du Yeti (little England), Le Frog is okay, then its on to Le Bam Bam nightclub. Le Monetier is very quiet so the Alpin bar is probably the pick.

accommodation
Accommodation: 30,000 visitors can be bedded around here. The choices range from a bunk house and modern apartment blocks for groups on the cheap, to classy hotels. A lot of the accommodation needs a good lick of paint.
READ NEXT: Mountain statistics
Resort Information
Location
Advertisement